Summer in France 2013 – Village Life
Taking a look into 'viewer mail' I see a question come up quite often: What is it like living in a small French village? Well, today is a great example of a rather normal day.
We awoke when the cats just couldn't wait another moment for their breakfast. Today it was 8:00 a.m. As the weather warms (if it EVER warms) we'll sleep with windows open and likely awake to the grand pealing of the 7:00 a.m. bells ~ rather like a village-wide mom shaking all of us from the covers. But it's been cold…very cold. And the windows and doors are tightly closed, keeping out the morning bells, and keeping in the warmth from the fireplace; our sole source of heat in this 16th century structure.
The sun was actually shining!! I carefully descend the steep and turning stairs from the loft to the main living level, feed the boys, and get myself ready for the day ahead. Joe's still snuggled in bed, but I lure him from his warm nest with the promise of sunshine and breakfast. A light breakfast of yesterday's left over bread with jam & our newest taste sensation 'speculoos butter', yogurt, and hot tea or coffee get us going: Joe to hunt mushrooms in the forests, and me to attend to neglected bookkeeping chores.
Midway through the morning, the wind briskly kicked up and the rain fell in horizontal fits and starts. Somebody is getting wet in the forest…bet I know who. Joe's home by 12:30/1:00 empty handed, a bit dampened, muddy from bushwhacking, and happy as a clam for the outdoor adventures. While he cleans up and recounts his tales from the forest, I prepare a light lunch snack of cheeses, paté, fruit, and chips. Just a little something to take the edge off – dinner is going to be spectacular tonight. We've been mostly dining in since our arrival…the chef is pretty good at this establishment.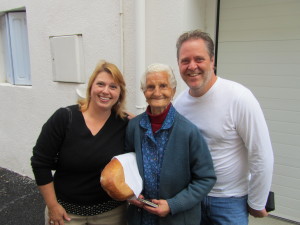 By 4:00 the rain has lost out to bright sunshine and we set off to the center of commerce. Along the route we stop by several of our neighbors to visit, drop off gifts, enjoy some light conversation, and settle small debts. Madame Paulette, our nearest neighbor, is in her mid 80s and is an utter delight! She loves beautiful flowers and pretty things which brighten up her home, so I always bring her flowers from the market to cheer up her window ledge. It's been too cold to shop for flowers yet, so we stopped by to give her a brightly framed photo of her flanked by the two of us 2 summers ago. She was delighted!!
Next we stopped by new friends Francois and Christien to give them a gift for their hospitality 2 nights ago when they invited us over for aperitif and conversation. Francois retired from many years working in nuclear reactors here and in India. My neighbor is a nuclear scientist…never thought I'd say THAT. They share use of the house with 6 other family members, all coming for a week or so as it suits their schedules. We're best acquainted with Christien's oldest sister Giselle, who made sure we didn't miss any numbers the first summer during Bingo night.
A quick stop to Isabelle & José's to slip a note into their mailbox asking if José could help us install a couple lighting fixtures when he has time. He's an amazing electrician…and we're not. Nuff' said there.
Down to the village to get a stamped card at the Marie Office to take the useless BBQ grill we bought last season to the dump…it's been replaced by a 'real grill' – still in box, but it's already working better. Say hello to the men planting flowers in the village flower planters. Chat about the terrible weather (everybody agrees it's been a terrible winter, and still feels like winter).
Then there's the butcher. Now, we're doubly blessed in the meat vending business to have a fabulous butcher shop on both sides of the Atlantic. Mario's in Fort Myers and Damien Rigoni in Axat. Display cases of fresh meats in varieties to make a vegetarian scream in terror. Ah yes! I'll take a huge slice of duck rillette, and freshly sliced smoked bacon, and, and, and, and…..You see, he's going on vacation for 2 weeks starting this weekend, so we need to stock up. Across the street for freshly baked bread and croissants I impress our smiling bakery lady by using the Southern-French pronunciation of Banette. Ooneh Banetteh. She loves it when Joe comes with me…must be his boyish charm and sparkling blue eyes.
Heavy with packages we make our way back up the steep hills to our high village home. Our gay couple, Armand and Bernard, are out working on their gardens…which are SPECTACULAR! They're happy to see us back again for the summer, and give us a tour of the gardens to show all of the new things they've been doing. OMG – everybody should have these guys design their yard. Blossoms everywhere, despite the cold weather, a new Koi Pond, and the 3rd level now has a hot tub. We visit their brood of hens and learn about cross pollinating iris to change their color. Bernard invites us in for a quick tour…artsy in a very unique way, quite non-traditional… and Armand gets a half-dozen fresh eggs for us to take home. We'll return the favor soon with a bottle of wine.
One more quick stop a block down the road to settle up with Pierrot for all his work weed whacking our back yard. Although retired, Pierrot is never idle. He has the most extreme and complete collection of tools on this planet – and knows how to use each and every tool like a master! Need a gigantic pruning thingie? Pierrot's got it. How about a mason drill…no, a really BIG mason drill. Check. Ladder? What size…he's got them all. Saws? Sanders? Things I have no idea what they are? Check, check, check. It's rare that anybody in our immediate neighborhood actually buys a tool anymore – we go to Pierrot's Hardware Garage. He thanks us, say's it was nothing really, tucks the bill into his wallet, and returns to his afternoon tasks with a wink and a smile.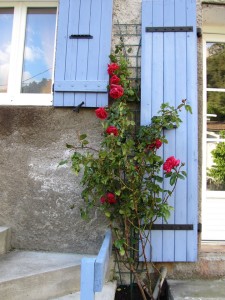 I start to finish up laundry as Joe begins to tackle the rose bush next to the front door. It's grown nearly 4 feet in the past 2 years and desperately needed trellising to avoid shredding everybody trying to get into the front door. Success comes at a cost; but the bloodshed is offset by how beautiful the rose looks all nicely leashed up next to the front door. Our hope is that over the next few years we'll train the rose to arch around the doorway with beautiful pinkish-red blossoms making our cottage look even more inviting…if that's possible.
Evening falls, dinner gets prepared from the many fresh foods we brought home just hours before, and we settle in with a beloved bottle of 2002 Chateau Semonlon Haut-Medoc Bordeaux. What will tomorrow bring? We give it no thought at all….