Summer in France 2013 – Luggage vs TAP Portugal
When I was a teenager, I wrote a career paper on 'what I want to be when I grow up'. It was all about the glamorous life of an airline attendant; traveling the globe, meeting exotic people, wearing a fetching uniform with a jaunty cap and high heels. Who would have thought my luggage would get to live this dream life, and leave me at home worrying…putting out an APB while it lived it up in cafes of Paris enjoying the nightlife. That would be the half of our luggage which contained ALL of my clothing, some of Joe's mountaineering equipment, and ALL of our toiletries. (note to self….keep estrogen in carry-on)
So, we filed the usual 'lost baggage claim' at the Barcelona airport and followed up with a SKYPE call to the Travel Guard insurance company in Wisconsin (nice people up there in the hinterlands; I recommend their service) The airport was not the least bit concerned nor sympathetic/ Travel Guard was very helpful and followed up with us every day – for 5 days via e-mail and phone calls, tracking the lost piece, problem solving, offering assistance in every regard until my luggage ran out of money and was sent home via Air France to Perpignan, where we picked it up on a Saturday morning en route to accomplish some shopping in the 'big city'. I'm just a little annoyed that my luggage has spent more time in Paris than I have.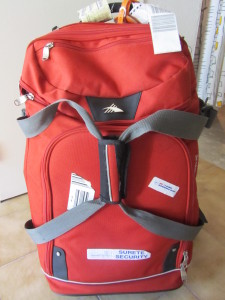 Shopping is nearly a full-time job the first week. There are many stores to visit and new adventures around every turn. We look for new curtains, chaises for the terrace, need a new SIM card for the mobile phone, set a haircut appointment with Joffrey, find 2 bottles of Fleur Cardinal tucked behind some ordinary Bordeaux across from 60 feet of rosé wine at the Auchon Store, get olive oil at the fresh press family run business near Casa de Pena where the border collies greet us with fetching sticks and the proud oil manufacturer teases us with his newest taste sensation; balsamic vinegar made from Banyuls (OMG!!). We visit umpteen brico (hardware/houseware) stores to get the best deal on a grill for barbecuing. And of course there's food to buy: cheeses, rillettes and patés, fresh fruits and vegetables from roadside stands (fresh asparagus & peas in the pod!!!), freshly sliced meats, and handmade sausages. And cookies and potato chips in the most exotic flavors imaginable: tandoori, chicken with thyme, kabob, grillade, butter & salted caramel, olive, and of course marine (yes…a picture of oysters on the bag).
Meanwhile, I wasted no time at all enjoying a shopping spree at Defi-Mode (fashions for the entire family), knowing that the first $100 would be covered through Travel Guard….so why not stock up on lovely, lacy, French underthings? smirk/wink And at the amazingly low prices Defi-Mode so proudly announces through placards around the store, I couldn't go wrong!
Happy as a well-appointed clam in my new under-garments I went about the first week in the usual fashion: reacquainting with neighbors, meeting new neighbors, cleaning out gardens and getting the house in order. Having a vacation home is nothing but work for the first week. Everything needs to be checked: what didn't weather the cold, rainy winter needs to be junked and replaced, everything needs cleaning, appliances need to be run & checked for wear – and then there are the gardens.
But the weather has been quite cold, rainy, and generally unhelpful for outdoor work…so we build a fire in the ancient fireplace, pour some wine, and enjoy the quiet of this darling little village nestled in the foothills of the Pyrenees Mountains.