Summer in France-2013 ~ Travel 101: Obstacles
(part one)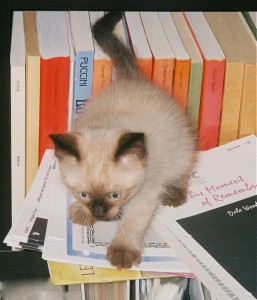 The 2.5 hour drive across Alligator Alley from Fort Myers to Miami is normally uneventfully marked by swampland, state troopers, and congregating vultures awaiting the next highway cuisine. Our drive to the airport was not exactly 'normal'. An explosive thunderstorm unleashed a torrent of rain which mocked the wipers blades as they feverishly toiled to allow glimpses of the expressway and traffic ahead. Brake lights and flashers were the only beacons to guide us as we cautiously continued toward the airport; my eyes darting to the clock, calculating our delay. Still okay, we can manage 2.5 hours at the airport for rental car return, check in, luggage, documents for the cats – it'll be okay.
The skies clear briefly as we enter the car return and speed our way through the new and swanky tram system like champions. Inside the terminal, it's less like smooth sailing and more akin to a head on high speed crash. The counter for TAP Portugal Airlines was frustratingly hard to find (in the basement, at the furthest end, past baggage claim, around a corner, with no signage) Still enough time…we're okay. And then the sound of smashing metal and breaking glass in my head as we're informed they will not accept the documents for the cats. They question the forms, the dates, the signatures, the seal, everything. No, they cannot fly with these papers. I feel dizzy as my body and mind swirl from the panic. All goes black. I've fainted at the counter.
Voices. Through the fog in my head options are being discussed. In the distance…I hear voices, and the word 'Thursday' attached to 'next flight'. A new wave of dizziness overwhelms me as I say to myself, but today is Monday. Apparently I fainted a second time…the body swirling, nearly falling onto the luggage scale, should we call the paramedics kind of fainting. But Joe's patient and calm and assures them I'll be okay in a moment. The fog clears, I eat 2 packages of cookies, and I'm told a Pet Smart nearby can see us and make new documents, but we have only 90 minutes before the flight leaves. I feel slightly faint again. Our luggage is returned to us and we hurry to the taxi line. It's a relatively short drive and the on-duty vet, understanding our urgency, whisks us into an exam room to inspect Ralph and Milhaud. Lucky for us, both of them had just been to the Fort Myers Banfield inside Pet Smart just weeks before the trip, and their records were in the system. New paperwork was drawn up, stamped, certified, triplicated, and authorized again..all for a mere $68! A minimal charge for an amazing service, and a new taxi returned us to the TAP counter for re-booking This time we cleared with no hitches, and our luggage was rushed to the plane. A counter attendant personally escorted us through security and to the gate. I've never been happy for a plan to be in delay status, but that explosive thunderstorm from earlier in the day prevented our plane from landing, for 90 minutes – EXACTLY the time we were delayed by the paperwork. Karma? Good Living? Fate? God? Call it what you wish. We all departed Miami, together.
(part 2)
Our flight from Miami went well; relatively comfortable, relatively quiet, rather edible food, very few screaming children. But that delay in Miami snowballed into a missed connection in Lisbon. The airline was amazingly prepared. As we deplaned they had a counter of staff members ready to hand new boarding passes to each of us needing a connection. We whizzed through customs, found our new gate, and settled into chaise seats to stretch out and watch people pass by the wine & port kiosk. A fight broke out at the next gate. Not a little fight. The full on yelling, screaming, gesturing, screaming, yelling, should the police be called kind of fight. Yes…call the police, please. A hundred people at gate 25 watched in wonder toward gate 26 at this man who at 7:30 In The Morning continued to yell in dissatisfaction. In America, this man would have been immediately tazed by a SWAT Team until he peed himself. Not in Portugal.
Soon we were en route to Barcelona; gazing at farm fields and distant snowy mountain tops of the Pyrenees. And then we slept – hard. We know El Prat airport pretty well: deplane, walk along the shiny black tile flooring past the shops and restaurants, turn left to retrieve luggage, and … how come only 1 of our 2 bags are on the carrousel? We wait. It quits spinning. And we head to the lost luggage counter to file a claim. There are times in our lives when we buy that extra insurance package…something says 'hit the buy now key' and you do it. It wasn't much money. Oh, why not. Better safe than sorry. This was one of those trips when the voice spoke as I bought our flights ~ new motto: Always Buy Travel Insurance. Claim filed, we exit the terminal into a brisk 68 degree, sunny, spring day.
We're shuttled to a brand new Centauro facility, and greeted by a friendly man who remembered me from last summer. Noting that we didn't like the Fiesta they'd offered us last year, he's given us a 5 speed manual diesel VW Polo. Nice! He swipes our credit card. Some things you can count on. The sun will rise in the East, the Lakers win with Phil Jackson, and SunTrust (god love 'em) will ALWAYS block our credit card when we travel…for our own security. Yes, I do inform them in advance. Makes no difference. I wield my charm and the nice man allows us to use his phone to call the toll-free international number, and the bank clears our card after only a minor interrogation. All is well. Yes, they have it noted: Spain, France, Switzerland…yes, we're all set.
Joe drives the first leg of the 3 hours from Barcelona to Axat / I take over just before the French border, and a wave of calm washes over me as we cross over into our beloved adopted country. Wave of calm turn into tsunami as that 'cleared' SunTrust card which worked fine in Spain all of sudden refuses to work at the first French toll booth…and with 5 cars honking behind us, this one wont take cash. I push the intercom and plead our plight to the attendant, who comes to our aid to accept my toll in cash and allow us to proceed. A quick stop at a grocery for essential provisions (cat litter, cheese, duck rillette, baguette, fresh fruit) and we arrive at the little stone house with the periwinkle blue shutters on Rue du Bouchet. The roses out front have gone native, but Pierrot has weed whacked the back pathway and Liliane has the house aired out and ready for our arrival. Neighbors Poul, Katti, and Madame Paulette greet us with warm embraces, hearty handshakes, and light conversations. Unpacking takes half as long with half the luggage – and so Joe lights a fire and opens a bottle of pinot noir from the wine cellar and we dine on French bread, rillette, and assorted cheeses before drifting off for a long, long sleep.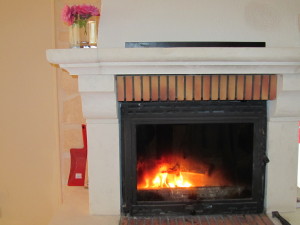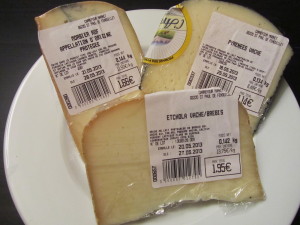 ps….we received word from the nice travel insurance company (in Stevens Point Wisconsin btw) that our lost bag is dining in a bistro in Paris today. Tomorrow it'll travel to Perpignan, where it may, or may not be transported to our house. We'll see. Just to be safe we went clothes shopping today at prices like this, we may eat cheese EVERY day