Conductor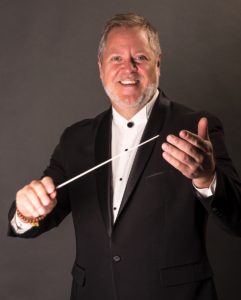 Versatile with a clear beat, and known for his innovative programming, Maestro Caulkins is at home with music from classics to pops, and baroque to ballet. His work alongside pops legend Erich Kunzel, conducting icon Robert Shaw, and master technician Helmuth Rilling at the Oregon Bach Festival have shaped him into a sensitive and dynamic conductor.
In 2019, Maestro Caulkins received the Arts Leadership Award for Artistic Achievement from the Arts and Cultural Alliance of Sarasota County for his many seasons as Artistic Director of Key Chorale. With Key Chorale, he has consistently delivered innovative concert experiences through adventurous programming, unique collaborations, and performances of new and rarely heard works.
Key Chorale was catapulted onto the national stage in 2017 when it was invited to perform Cirque des Voix®, an innovative concert experience with The Circus Arts Conservatory, for the Smithsonian Folklife Festival on the National Mall, which the Washington Post named one of the top five events of the entire 10-day festival. The Chorale also sang two performances at the historic National Cathedral and released their latest CD, ARISE – Choral Music of Ola Gjeilo, featuring two world premieres.
Joseph's passion for education and community outreach has shaped much of the Chorale's programming and mission with an education program that reaches more than 400 students each year and specialized outreach choirs for those living with Parkinson's disease and those with Alzheimer's and dementia. During the pandemic, he launched the Come Together Choir – Online Choral Rehearsals. To date more than 600 singers from all over the world have registered to be part of the 3 volumes and the rehearsals have more than 6,000 views on YouTube. in 2020, Chorus America presented Key Chorale with the Award for Education and Community Engagement.
As a guest conductor, Maestro Caulkins has led The Venice Symphony, Space Coast Pops, The Sarasota Ballet and the Southwest Florida Symphony where he was also Associate Conductor/Director of Choruses from 2001-2010. Prior to his arrival in Florida, he was Artistic Director/Conductor of the Bach Chamber Choir (Rockford, IL) and directed the St. Procopius Chamber Orchestra and Choirs at Benedictine University (Lisle, IL). With his choruses, Mr. Caulkins has produced numerous CDs, led European concert tours, conducted world and regional premieres and commissioned new works from Dale Warland, Eric Whitacre and Ola Gjeilo among others.