Gearing Up: The Matterhorn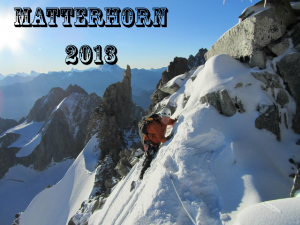 4,000 feet of sustained, exposed climbing on unstable rock at high altitudes, leads to the summit of one of the most iconic peaks on the planet; a goal that barely 60% that try it actually achieve. The Matterhorn still claims 12 deaths annually, and up to 1,200 are rescued in the area every season. Inexperience, altitude sickness, poor conditioning, rock fall, crowded routes and weather are just some of the obstacles the avid climber will encounter on its flanks. Maximizing success means spending the "off-season" gearing up, conditioning, planning, and preparing for a chance to stand atop this slender snowy summit.
My climbing partner, Rob Masserini, and I have climbed countless peaks together, but this summer each of us has chosen to conquer an objective nagging at us for years. Rob will spend a month in Yosemite, big walling climbing on El Capitan, and I will grab my ice ax and crampons and head for the Swiss Alps.
Almost every mountaineering adventure Rob and I have successfully conned our wives into allowing us to take begins with our 'almost annual' rock climbing trip to Lineville Gorge in North Carolina. 30 miles from the nearest town of Morganton, and up 9 miles of fairly treacherous gravel road brings us to the remote parking area just below Table Rock Mountain. Since we live in the great mountaineering state of Florida, our arrival is always in the dark of midnight as we stumble, headlamps affixed, up to the camping area and set up our tent in darkness; a skill we have mastered.
We come here each year because of the tranquility and remoteness this deep gorge possesses, and for some of the best multi-pitch climbing in the entire southeast. Every trip involves at least one journey to the Amphitheater. An hour's hike across the ridge of the gorge, on paths we know by memory; the first lookout point, the chimneys, an old landslide area, and finally the rectangular, white quartz rock marking the junction to the Amphitheater. From here we descend quite steeply until we reach the top of the gully; a class 4 steep, always moist, always dripping, butt sliding, descent to what most would see as a confusing labyrinth of stones and twisted vegetation. To us, it's our roadmap for each and every climb in this secluded canyon.
These granite walls guard routes we have climbed many times; The Daddy, The Mummy, The Prow – so many times they have almost become dear friends. These moderate routes have seen a lot of our firsts. It's a place where we have refined our climbing skills to where we can communicate just through the feel of the rope, even when the wind and rapids below block all sound. We can usually judge our level of fitness, and preparation for our summer objectives, by the time we spend on rocky slabs and cracks that nearly know us by name.
This trip brought us a flock of migrating goldfinches, blooming irises, the first blossoms of the rhododendrons, and the best weather we have had in years. Spring was just arriving, and the cool temperatures were welcome as we roped up at the base of the Prow; a 5.4 climb with 4-5 pitches of easy climbing, on a beautifully exposed arête, with great views during belay. On the second pitch of the climb Rob handed me the rope, and said "Why don't you take the next lead?" Being a career second, I was surprised, but knew the climbing was easy and on this route I had done many times. So I grabbed the rack, put in a few pieces of protection, built my anchor, and brought up Rob. One of the great things about the perfect climbing partner is knowing just when to push and challenge. Rob is the perfect partner.
The eastern Pyrenees of southern France will be my training grounds for the next 2 months, and with double the amount of snow this season, it'll bring on new challenges. It will be strange taking my ice ax and crampons along with me in June on many of these favorite hikes. I will plan 3 long trips each week, usually 8-10 miles with 3,000 feet or more of elevation gain. Right outside my front door is the easy hike, what we call the jaune trail because of its golden blazes. It ascends over 1,000 feet, most of it in ¼ mile; a real cardio cleanser! There are also 3 limestone pinnacles that stand as sentinels guarding the Saint George Gorge. With 2,500 feet of elevation, it is a nice workout close to home.
I will be breaking in my new hot orange Scarpa Jorasses Pro GTX boots which replaced the trusty La Sportivas which weren't going to pass the tread-test this summer, and week by week I'll increase the length and elevation on each hike to increase my fitness….and I'll try not to eat too much fois gras!
For those who love lists, here is what we'll be taking on our climb of the Matterhorn
Personal Equipment:
ice ax
crampons
mountaineering boots with gaiters
climbing helmet
climbing harness with belay device
2 locking caribiners
1 prusik (a versatile short length of rope)
1 sling for rappelling versatile ¼ inch webbing sewn into a closed loop)
headlamp
glacier glasses
backpack
lightweight & heavy gloves
layered clothing with a hard shell jacket and pants
warm hat
first aid kit
camera
Technical Equipment
1 50 meter rope
4 cams (spring-loaded camming devices) in 4 sizes (0.3, 0.4, 0.5, 0.75)
6 locking caribiners
4 sling draws
1 ice screw
2 double length slings
1 cordelette (18 feet of climbing rope used mostly for anchors)