Summer in France 2014 – The Scenic Routes of Life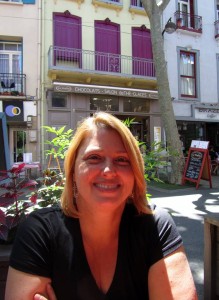 Sitting barely 10 km north of the Spanish border, deep in the wild Catalan countryside, the village of Céret has been noted in history since the 9th century. It's narrow, cobble stoned stre
…
ets are defined by towering, century-old plane trees and tall, narrow buildings, sitting shoulder to shoulder, decorated with ornate wrought iron balconies. It's a thriving city of 7500+ residents; a throng compared with the 600+ of our beloved Axat. And this past weekend this charming village swelled to bursting with thousands of visitors for the Annual Cherry Festival.

It was an event I noted on my calendar months ago when planning our summer adventures. Expecting cherry banners hanging above table upon table of gleaming cherries being vended by local merchants, cherry products galore, cherry beers for the tasting, regional bands and street dances, all bathed in the dappled early summer sunshine falling through the giant plane trees – we were not disappointed by the spectacle nor by the products. It was an excellent event!

But some wise person ages ago spoke the words: it's in the journey, not the destination. And yesterday was quite a journey.

By mapping software, Céret is about 80 minutes driving from Axat; well within the practicality attending a festival even if it is pretty much just to buy some fabulous cherries and eat local goodies. But as we briefly drove southward, after buying morning pain au chocolat at our local bakery, Joseph anticipating a U-turn to take the D117 to Perpignan and AutoRoute into Céret …. I said, 'Well, we could take the scenic way via Mont-Louis, then the N116 to Ille-sur-Têt, and then the ziggy-zaggy way into Céret. It'll be longer, but the scenery should be nice today.' (let me just note, that this was the first sunny day we've had in 9 days)

So we continued south along the D118 through the Gorges de St-Georges (noted as one of the scariest roads in Europe) and the narrow, climbing, densely forested twists and turns through long forgotten spa villages like Usson-les-Bains and Escouloubre, to the high valley below ski resort villages of Fontrabiouse and Les Angles, over the crest into the ancient walled Fortified Village of Mont-Louis (which still functions as a military site to this day). There we drive 3/4 around the roundabout and onto the N116; a picturesque landscape of deep gorges, ancient castle ruins on hillside after hillside, huge bushes of purple lilacs still in full blossom at this elevation, and the ornate bridges of tunnels along the route of the Yellow Tourist Train. (we intend to ride this train route later this summer to enjoy the fullness of the scenery without the need for eyes on the dangerously steep, twisting N116, and to hike the amazing Gorges de la Carança)

The 10% grade steeply descends us past the Foret de Campilles and peaks and cols too numerous to name, through the village of Olette and onto the ancient walled medieval village of Villefrance-de-Conflent, where last summer we climbed the 884 steps of the mysterious staircase-tunnel through the mountain to the top of Fort Liberia. As we left Prades (famous for being the adopted home of cellist Pablo Casals) and neared Vinca, the high mountain landscape and dense forests had given way to bleached plains, fields of fruit trees heavy with ripening apricots and apples, olive trees and scrub brush. Just outside of Bouleternère we leave the N116 to pick up the D618 / D16 / D615 through Thuir and Llupia, past Fouraques and the hermitage at St-Sebastian, along dry, dusty, arid twists and turns back into the higher elevation of the Pyrenees foothills, over the Col de Llauro and past L'Ermitage Saint-Ferreol – and There! in the distance we glimpse the village of Céret .

Time to complete this 1-way journey? 3 hours. I refer you to the top of this post and the adage of it being the journey and not the destination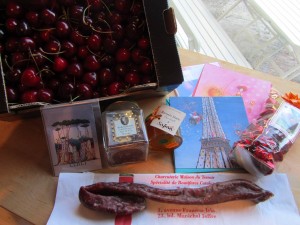 In the village we find ourselves bathed in the revelry of all things Cherry. Cherry candies. Cherry pastries. Cherry beer. Cherry liquors. Cherry tea towels and post cards and trinkets and magnets and pottery and even whole cherry trees being sold by vendors lining the streets. Bouncy castles, carnival games, restaurants offering special menus featuring their beloved cherries. Brass and wind bands on every corner. It was all as promised.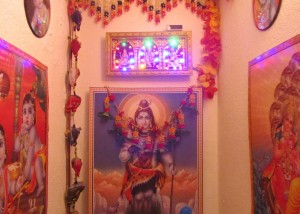 Our market basket brimming with purchases and our stomachs ravenous for lunch, we inquire about seating at restaurant after restaurant, but are turned away for not having made a reservation – they're complet (full). So we backtrack and wait for a table to become available at a small café, Bleu Citron…and we people watch. The man working this restaurant, perhaps the owner?, resembles a cross between a yoga/meditation leader, The Dude, and a man who may have worked in Silicon Valley until he made enough money to chuck it all and start a bistro in the depths of Southern France. He's intriguing to say the least. And the restroom at this bistro (photo included) was a delightful surprise. Lunch of gizzard salads, fries, rose wine, and a lovely dessert assortment fortified us for the drive home.
But which way? The practical 80 minute Auto-Route/D117 – or – the scenic journey up the 618 to see the Organ Pipe rock formations at Ille-sur-Tet?
Nearly 2.5 hours later we return to Axat having driven up more narrow, winding roads to the Col Xatard, where we discovered the ruins of an ancient castle at Chateau St-Anne just outside of the tiny town of La Trinité where two friendly dogs assisted me in leg and foot washing at a little park. See, we'd driven up a dirt road to check out the castle ruin, and I was not wearing the proper footwear (or socks…or long pants) to safely bushwhack through the pricker bushes and raspberry tangles to get up to the castle, and I got rather scraped up just from the car to the clearing. Joe, on the other hand, managed his way up the hillside for some great photos of the ruin and surrounding views. Not willing to rip himself to pieces descending the same path, Joe searched for a path not waist deep in ripper bushes…and found it; a rather long walk down the far side and back up the dirt road to the car, where he beeped the horn to let me know where he was as I stood in the clearing watching for his descent. But the howling winds took all sound and I heard nothing. Fearing he'd fallen down an old well, I started to climb up the hillside to search for him. Thankfully, he yelled loudly from behind me and stopped my climb up the prickly slope.
Back in the car, tired and dehydrated, I lost focus as my stomach churned along the road past the Roque Rouge and the Orgues, and into Milas, just off of the N116 on a familiar route toward Estagel and the D117 home. We pull into Milas eyes watchful for any business open at 6pm on a Sunday – hopeful to get water and refreshment. Voila! A bar specializing in pari-mutual racing, scratch lotto tickets, card games, and men…yes, only men it appeared…was open and serving cold beverages. Our hydration regained, and perhaps a gender norm shattered for all time, we depart Milas along the D612, up the dry and wind worn slopes past the Ermitage at Força Réal, and down the other side into the village of Estagel, where we pick up our familiar D117 westbound through the long stretching vineyards and past Cathar Castles Queribus, the Fenouillèdes at Caudies, and our neighborhood Puilaurens in Lapradelle, and finally descending into our happy village of Axat.
Life here is a journey worth taking, and worth sharing.
See More