Summer In France 2014 – A Busy Start
The first ten days here have been filled with fun, adventures, sleeping late, eating well, and even a few triumphs. Hard to believe less than 2 weeks have passed already. I find myself thinking of buying a wall calendar so I can jot down our appointments and events on something other than bits of paper held onto the fridge with magnets.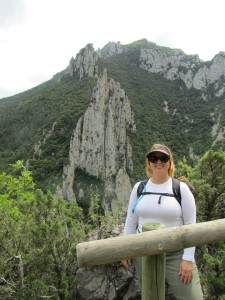 Over the past couple summers, we have developed a game plan for re-entry into French living. Step A is a long day of errands in the town of Limoux, just about 45 minutes to the north of Axat and the first major town south of Carcassonne. Limoux is a bustling town filled with shops, restaurants, makers of blanquette sparkling wine, our favorite coiffure, and a rather large grocery store called E-leclerc. Sure there are grocers closer to Axat, in fact there is a terrific little grocer right IN Axat. But this is where we can get all our first shopping stock up stuff in 1 bang, including a new SIM card for the mobile phone (annual necessity as the old one is rendered 'dead' after 6 months of inactivity) A little free wi-fi at the McDonald's across the street, lunch at our favorite Vietnamese hole in the wall, a haircut appointment set with Geoffrey, and we're headed back to Axat fully stocked.
Near the end of last summer, after 4 consecutive summers of pulling up and hacking down an overgrowth of chest high weeds in the back gardens and pathways, we resorted to more permanent measures. We dug up 15-20 feet of the back pathway (which is like a pedestrian walk alley behind all the houses next to us) to remove all of the weed roots, smoothed it out and laid down garden fabric, covered that with honeycomb plaques from the landscaping supply store, and covered it all with dark grey gravel. It was a huge amount of physical labor as we only have hand tools and our own strength here (rather 11th century), but it was our hope that THIS year we'd come back to a gravel path and few to no weeds.
So we did what anybody would do; we avoided looking out the upstairs doors for two days…..not willing to have our spirits crushed by a field of weeds staring us in the long, unhappy face. But Hooray! It worked like a charm! This year I was able to clean up the front and back gardens in a record total of just 3 hours, and I was being meticulous! Gone was the chest high field of weeds. What remained to be pulled were ordinary garden weeds, some overgrown nettle, leaf litter, and clipping of olive trees and roses. What a joy! I was lounging in a swing chair, glass of wine next to me, enjoying the sounds of tweeting birds just 3 hours after pulling the first weed.
Since cleaning up the gardens, I've added 3 new yellow roses and 3 large red geraniums to the upper terrace planter box, and transplanted a rogue old fashioned pink rose bush to the front planter box. Red geraniums look bright and cheery in the boxes I hang each season over the front staircase railing. And short of finding that 'special something' to plant in 2 new hanging boxes, I'm done planting for the season. Yesterday I sat in my swing chair, reading a book, listening to the bird songs, totally at peace.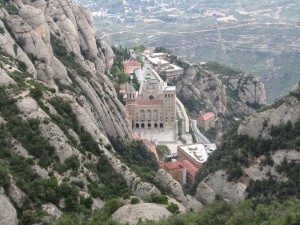 But there has been so much more over the first 10 days. We've traveled to Barcelona for a shopping trip to IKEA and an overnight in the old city center to attend a concert of Baroque music (specifically, it was all Charpentier…yea!) at the ornately fabulous Palau de la Musica. We stayed at the HCC Montblanc Hotel, dined on tapas at a swanky nearby restaurant, and enjoyed cocktails in the hip lounge of a 5 star hotel just up the street. Next morning we drove about 1 hour north to the ancient mountaintop sites at Montserrat. We walked their ancient pathways through the dense forest, gawked at the ornate cathedral, partook of 1pm Mass to hear the boys choir sing, enjoyed a languid 2-hour Catalan Menu lunch at the Hostel Restaurant, took the funicular ride up the side of the mountain, and walked the high pathways overlooking the countryside and village below.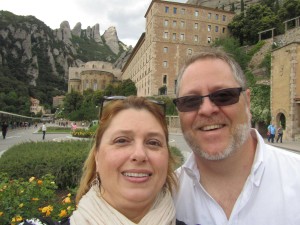 But there's been so much more. We've attended outdoor markets to taste and buy local cheeses and fresh vegetables, stopped by the Tabac in Esperaza to collect the new Internet Livebox which Orange mailed to us, returned the old Livebox to a service center in Perpignan, shopped for local wine at Case de Pena, chatted with neighbors about local happenings, hiked in the high forests above Belvians to overlook the Devil's Backbone, been invited to attend a local choir concert, returned to Limoux for Joe's haircut appointment, dined with friends at their restaurant, paid community taxes for local services, informed the local post office of our return to ensure delivery of mail, bought flowers for our dear neighbor Paulette's window boxes, been invited to sing for a local memorial service (when the time arrives…yes, booked in advance!), and it seems we are going to be on television. Apparently our Mayor would like for several of his non-French residents to appear on a television program to promote tourism in our region. How Nice! We even made new friends in Perpignan while waiting for our turn in line at the Orange store. It's amazing what can happen when you strike up a conversation.
There is always so much to do and so much to see here. This weekend is Cherry Festival in Ceret, just about 1.5 hours Southeast of Axat near the Spanish border. We're also making plans to return to Bordeaux for our annual wine trip, and working out final details for two weeks in Northern Italy in the Aosta Valley. This will be a wonderful summer!