Summer in France 2013 – Busy July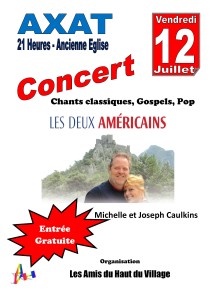 Ahhh, July: The commencement of summer holiday for Europeans. This is the time of year when school children say goodbye to teachers and homework, and parents take a month-long break from work and obligations. The roads crowd with campers, summer houses open up to Danes, Brits, Germans, and French alike, and beaches fill up with umbrellas and sunbathers in teeny-tiny speedos.
It's also the month for festivals in the High Village of Axat. Oh Yes! We do Festivals here…and they're great fun. This week the men hung strands of colorful flags over the Place du Moroc (our festival grounds) and villagers have begun gathering around the concrete table in the evenings for aperitif time and conversations. Today was rehearsal in the old church for our concert 'Les Deux Americains' – Friday is an evening gathering for the General Assembly – Saturday afternoon the Tour de France rolls through Axat in all its glory with a 2.5 hour gift-throwing Caravan of promoters followed by 5 seconds of cyclists (WHOOSH!!) as they head up to their first mountain stage of the Tour – Saturday evening the Association du Haut du Village kicks off their festivals with a grill-out and open air movie.
Next week gets even busier: the 9th Joe & I meet some American singer friends on vacation for lunch in a medieval village north of Toulouse – the 11th we have our sound check and final rehearsal for our concert – the 12th is our Big Show (there are posters EVERYWHERE in the region!) – the evening of the 13th is a food and wine celebration of the Catalan Region – and the 14th is France's Independence Day: Bastille….and the moment I'm most looking forward to and dreading at the same time: singing "La Marseillaise" for the entire village of Axat in the town square during the official ceremony. Nervous??? Oh Heavens! That's an understatement.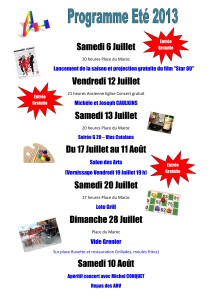 Much like in America, singing the National Anthem is obligatory for the National Holiday. And while some view the song with pride, others are in the not-so-much camp…heck, have you ever read the translated words for La Marseillaise? I'll summarize to say it's rather violent and filled with lots of bloodshed – it's about war. I've been informed that most French people don't sing along like Americans are apt to do with the Star Spangled Banner, especially when the celebrity singer has trouble…Americans are great at jumping right in there to help out. So I'm prepared to have all eyes (and ears) on me as I maintain full focus on my task and word sheet. Oh YES! I'm using a word sheet. There is nothing more mortifying than getting a word (or an entire phrase) wrong in public. I'd rather not make it famous by being added to a list like this one:
Singers who have messed up the lyrics to the Star Spangled Banner: Christina Aguilera, Cyndi Lauper, Jesse McCartney, Keri Hilson, Lauren Alaina, Michael Bolton, Scotty McCreery, and Steven Tyler. http://thejustpushplay.com/2012/01/22/singers-who-messed-up-the-national-anthem/
After July 14 I can relax and enjoy the remaining summer festivals like the annual Juried Art Show, Loto (French Bingo), the International Folkloric Festival of Dance, and the big end of season dinner/dance with live band and all of our wonderful friends and neighbors. We'll only miss 1 event this year; Vide Grenier (village-wide garage sale) when we'll be in Switzerland for Joe to summit the Matterhorn.
So, I hope you'll keep with our adventures here in Axat and in Switzerland as we eat, drink, make merry, and climb super high freakishly scary ice and snow covered mountains. It's summertime my friends – Enjoy!