Summer in France 2012 – First Few Days Edition
Sunday, June 3, 2012
The Caulkins Family has settled in to our summer nest in Southern France, and life rolls along at a decidedly quiet pace here. Thursday, our first full non-traveling day, was warm and sunny and filled with activities such as visiting the weekly open air market and being welcomed back by our neighbors. Cherry trees are loaded with fruit and everybody in our high village group is happilly stuffing sweet, red, glissing cherries into their mouths, bowls, sacks, and pails. I think there may be too many to eat! But we are doing our best to gobble them up before they spoil on the limbs.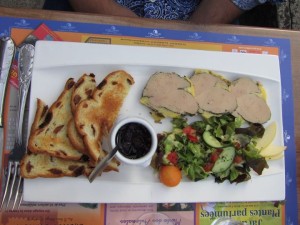 We spent the evening dining at our favorite restaurant near Axat, Le Rebenty. A full 8 courses were consumed! Apperitif wine, amuse bouche, an order of toast & mushrooms, then we each had a starter (shrimp salad for me/fois gras for Joe) followed by our main plats (trout beurre blanc me/trout Le Rebenty for Joe), split a cheese plate, desserts (creme speculous me/lemon sorbet Joe), and finally coffee. It was magnificient! Portions and pricing are always just right here and the company of host Christoph is unmatched. Chef Linda has an amazing way with food and we covered many of our favorites with this meal…I think I may have got the biggest trout in the river. It literally hung over the plate edges. What a wonderful 'welcome back'!!
The first couple days go by so quickly as shopping trips for supplies & groceries dominate the agenda. But the house is well stocked now, and we've begun to enjoy the quiet afternoon naps after an active morning of hiking or gardening. Work is best done in the cool of the morning here and gentle, dare I say lazy, afternoons are normal. It's a good pace. If something doesn't get done today, well that's really not a problem because maybe it can be accomplished tomorrow. And if not tomorrow, well then maybe the next day or sometime next week.
But for now, I'll close with a photo gallery as I feel the sandman gently pulling at the corners of my eyes once again. He's hard to resist 😉
Cheers!