Summer in France 2012 – Edition June 5
Tuesday, June 5, 2012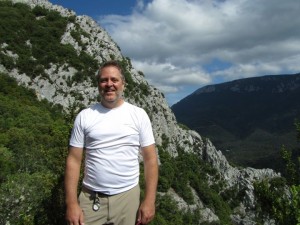 It's said "Life is just a bowl of cherries" and sitting here with sunshine flooding the tree covered mountain views all around me, bright red geraniums decorating the French Blue railings surrounding our dining terrace, under the blue & yellow stripes of the new awning, Milhaud gleefully rolling in the dust, I munch a few freshly plucked deep reddish-purple cherries in the mid-afternoon calm of the day as I listen to distant sounds of village life. Melodic bird calls too complicated to imitate. The distant mechanical rhythm of cement mixing for needed roof repairs. A rooster. Life is slower here, gentler. More time is taken for greetings, exchanges of weather predictions, discussions about what's planned in the next few hours. Walking down to the boulangerie and back can take 90 minutes; perhaps more depending on how many people you meet and how much needs to be discussed at each meeting. But that's okay with us ~ we've got the time, and we enjoy the conversations. We've formed bonds with our neighbors. Bonds of giving and sharing, of helping and laughing, of being open to possibilities unknown. I think we fit in pretty well. It feels like home.
We've been on 2 hikes already this trip: the upper loop trail above our village (2.5 hours RT w/1000 ft elevation gain)  and the loop trail above St. Martin Lys (4.5 hours RT w/1500 ft elevation gain). I was very happy with my progress up the climb above our village….not so sure I was going to survive, let alone summit, St Martin. Way more vertical & rocky. But with the help of 3 yummy raspberry shot blocks and lots of patience from my personal trainer, Joe, I reached the top in 2 hours and boy was I glad I put forth the extra effort. Views from the rocky outlooks were just stunning!! We could see the tourist office/roundabout/fruit stand just outside of our village, and our village peeking around the walls of the gorge. What a perspective! I'm not a cartographically challenged person. I find maps are fine for flat terrain, it's easy to see how this connects to that. But for such mountainous terrain as we have here I don't always 'get' how that mountain and the next village connect…and that such and such castle is really just over there…there…you know, behind the next rocky outcrop and beyond that ridge. So to be able to see from above was enlightening.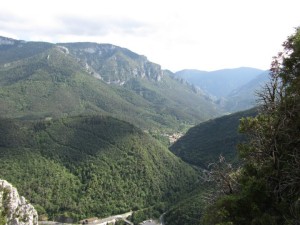 During a short extra credit portion of the hike, we startled a family of wild boar busily rooting around for mid-day goodies. The little one was tawny colored with dark stripes and dots, and the big one had long hair and big tusks. Joe picked up a couple rocks just in case we needed to encourage them in an alternative direction should they want to charge us. If there was other wildlife on the hike, I didn't see it as I kept my eyes firmly glued to the next foot step to avoid slipping and/falling.
Today was filled with morning shopping, afternoon garden work, and now as my eyelids grow very heavy, I consider a short cat nap to recharge my batteries before a decadent dinner in Alex les Bains.
Until tomorrow…