Summer in France 2012 – Edition Wine Tours….Bordeaux Style
Thursday, June 14, 2012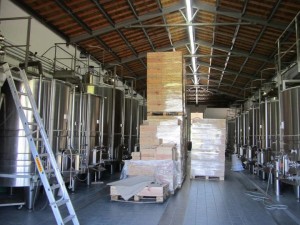 Guess who just spent the past day and a half rubbing elbows with wine makers in St-Emilion? US that's who! Woo Hoo did we have a fantastic visit, with so many unexpected moments.  In just a short 36 hours +/- we toured 3 wonderful estates, dined like the rich and famous, and had the opportunity to discuss wines, wine making, and the very strange growing season of the 2011 vintage.  I'll expound: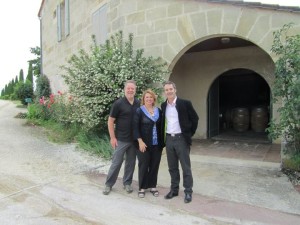 Our friend Jean-Baptiste Bourotte of the Audy wine family, Libourne/Pomerol, was kind enough to take us to one of his 5 estates, Château du Courlat, for a tour. This beautiful estate will be the setting for his wedding this coming September 🙂 Soooo Romantic! JBB is very busy running the family business since his father retired, so it was truly special for him to take the time to meet with us personally. Incidentally, we met Jean-Baptiste in Fort Myers at Gulf Points Liquors & Wines during a wine tasting a couple of years back when he was visiting the US to market his wines.
From there we headed to nearby St-Emilion to check into our hotel and to visit the city…also to pick up some wines we bought on the futures market in 2010. More good meetings, laughing, and renewed friendships kept up our perfect day (oh…and did I mention that we never got LOST this trip?! Yeah, that's a first folks. Trust me, these are really confusing roads and getting around from estate to estate can be, uhm…a test of ones patience with their spouse let's just say. So to get from home to Libourne, to the estate, to St-Emilion with NO errors was amazing!)
Our dinner and overnight at Logis de la Cadene were wonderful – we stayed here last year also. Marion and Abdou Maarfi are incredible hosts, their Inn is charming and we sleep like babies here, and Chef Abdou makes the best wood grilled duck breast in the universe!! This is the longest run restaurant in St-Emilion, and Abdou has logged 33 years as Chef here. Today, following a fantastic morning visit to Chateau Fleur Cardinale (2011 vintage received a 93 rating from Parker…yep, we tasted a barrel sample!) we were in the courtyard next to Logis de la Cadene to check e-mail and Abdou invited us over 'for a glass of wine', which we eagerly accepted 🙂  There at the 'Host Table' was the wonderful vineyard manager and wealth of knowledge on all things wine who had Just Given us a Tour at Fleur Cardinale.  They'd seen us sitting in the courtyard and invited us to join them to lunch – How Great is THAT? All during our fantastic lunch other wine-makers stopped by to say hello and chat among the group. This truly is THE place for the Who's Who of St-Emilion wines to meet and to hang out together…even got to meet one of the owners of Château Beau-Séjour Bécot! I know….Amazing!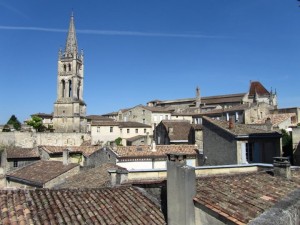 Our 3 hour lunch completed, we bid farewell to our gracious hosts and the table of Who's-Who St-Emilion and walked up the cobblestone footpath to our next appointment at Chateau Clos Fortet. Situated just outside…and I mean JUST outside of the city walls on 22 hectares of vines, this well established and beautiful estate has a labyrinth of catacombs under the property where the wines are aged and stored. Completely medieval and a bit terrifying down under the city, many of these labyrinths were carved out by slaves (and children) to quarry the rock for building materials above ground. The limestone rock is a beautiful, warm sandy hue and much of Bordeaux itself was built using this particular rock. Some of the passages were used by bandits…and others as prisons (eek!! ) but today they are wonderful, natural wine cellars with perfect temperature and humidity. Fantastic!
A bit of shopping rounded out our visit to this historic and ancient city in the middle of endless vineyards – then back to Libourne to collect some wines from Jean-Baptiste, to bid a bientot to his wonderful staff, and to head back to sleepy Axat just a mere 4 hours drive away….but a completely different world. We are constantly amazed at the generosity of the French people we have had the pleasure to meet during our travels here these past few years. I mean…who are we? Nobody special. A couple of Americans who sort of know the language, sort of understand a bit of the culture, and bumble our way around not every completely knowing where we're going or what we'll encounter. And yet, somehow we find our way into the lives of so many wonderful people who open their hearts and their lives to us – so freely – and we are all forever enriched by the experiences we share.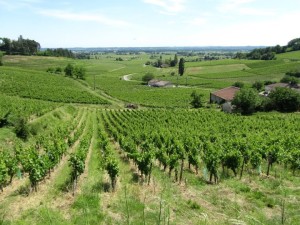 Life is good my friends….savor the moments you are given.