Summer in France 2012 – Edition Medieval Villages
Thursday, June 21, 2012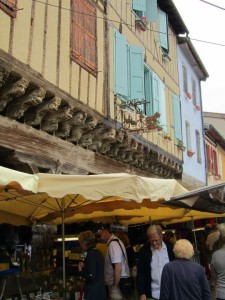 Walking the narrow, cobble stoned road into the historic village of Mirepoix, we could sense the excitement which lie just a few short blocks ahead. It was Market Day. But not just any market day, for Mirepoix is regarded as one of the 'best' in all of France (and certainly in Southern France). Rows upon rows of stalls selling fruits, vegetables, meats, sausages, cheeses, flowers, honey, soaps, baskets, clothing, wine, tea, hats, knives, pottery, postcards, and everything else imaginable awaited our eyes, and our wallets. KABOOM! The sky opened up with huge drops of heavy rain, surprising everybody as it unleashed it's deluge. Giant umbrellas were quickly raised to save wares for sale. Shoppers dashed for cover. And we calmly slipped into a brasserie/cafe and ordered coffee just minutes ahead of the throngs of wet tourists. Thick, dense, dark, and powerful, our nearly Turkish-style coffees were set before us to sip upon while we observed the panic outside. But by the time our coffees were sipped and our tab was paid, the downpour had ceased and we merrily made our way into the streets.
First stop was a very proud sausage and cured meat vendor who fed us thin slices of his varied products like a momma bird feeds it's chicks. Sausage with pistachio nuts (surprisingly good), sausage with chanterelle mushrooms (into our basket!), and mold covered aged ham (yummy!)…everything made by himself, and all of it amazingly tasty. There is no way the USDA would approve of his table of meats, but we approved on a grand scale. With our first purchases in the basket, we made our way through the stalls stopping to taste, try on, examine, discuss, and buy. So So So many stalls of vendors, it was impossible to keep count. Indeed this is one of the best markets we've patronized. Over the next couple hours those exotic meats from the first stall were joined by cheeses, cherries, peaches, watermelon, strawberries, green beans, mushrooms, flowers, a rather exotic new top for me, postcards, lavender soap, and 2 types of escargot. It was a Great Day for Shopping!
And it was lunchtime. Now many people would just go to the first brasserie they see and get a table for lunch…it's all pretty much the same around the tourist square anyway, right? Not quite so fast. We like to walk past and see how the plates of food look as people are gobbling down their steak hache, grillades, cassoulet, or plat-du-jour. And we test the air for enticing wafts coming from the kitchens. No waft/no thank you. Down a side street just away from the throngs of hungry tourists we found our spot; Chez Paps. A restaurant so small it only had room for 3 tables inside (all filled) and 7 tables outside (all but 1 filled). Enticing wafts filled the air, food looked wonderful, people were digging into their lunches…all signs said 'Eat Here', and so we did. No disappointment here folks, lunch was yummy and filling. Joe opted for a coursed lunch of salad w/duck rillette followed by a manageable sized cassoulet and dessert. I opted for only a main plat: joue de boeuf w/vegetables and potatoes. A solid meal all by itself and one which has become a favorite of mine. Pieces of beef cheek cooked fork tender in a deep, dark, saucy glaze.  Mmmmmm.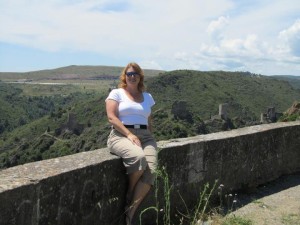 Happy tummies, full basket, and nearly an hour and a half to get home we packed into the car and zoomed down the country road out of town – and choosing adventure whenever possible, we choose to follow road signs home instead of the map. What a fun way to travel! Knowing which towns are along the path to our village and taking this country road and that little offshoot actually saved us time, and we saw a few ruins along the way.
2 days later we set off for another adventure, this time north of Carcassonne to the villages of Lastours, Conques-sur-Orbiel, Caunes-Minervois, and Minerve. Perhaps this was a bit too much to take on in one day. Perhaps we started a little late into the morning. Perhaps we should have called the restaurant we were eagerly anticipating dining at for lunch before setting out….because it's closed on Tuesdays and Wednesdays, and I don't think I can aptly explain how the gas was sucked out of our balloon of happiness upon reading that note posted on their door. Nobody was going to be getting the 'Awesome Salad' today (a towering display of fruits & vegetables in season on a variety of greens topped with grilled scallops or huge prawns and decorated with delicate toasted cheese threads.) Our hearts sank! But to our good fortune there is a Michelin Starred restaurant in Lastours (super expensive) with a little cafe/bistro on the back side (very reasonably priced)…and they happen to SHARE A KITCHEN/STAFF!  Whoo Hoo! Gourmet lunch at a fraction of the price right at the foot of the 4 towers of Chateau Lastours on a bright, sunny June day. Yeah!
Perhaps we should have called it 'good' and just headed South to the walled Cite of Carcassonne for the rest of the day, but we didn't. Let's just say the other villages we visited were less than thrilling (although well touted in every one of our books) and it was a rather frustrating game of 'this road took us no place for way too long before we finally found the ancient village of Minerve. At one point we gently eased through a "town???" so small it dead ended….twice! And while we turned the car around (again) a nice older lady came out of her house and over to our car. I lowered the window and she said quite matter of fact in slow, clear French (translated for you) "You're lost." To which I agreed 'Oui'. So she asked where we were going and upon hearing the answer she looked up the gravel road we'd just come down and at our car, and at the clearance of our rental car. She shook her head and suggested our car would not likely make it using the back roads. (A VW Polo isn't exactly a Land Rover) She gave us directions to return to the main road with an affirming nod of her head and a wink. So much for off-roading. We made it to Caunes-Minervois and toured the nicely restored Abbey (complete with crypt and secret staircases we actually got to explore!)
Now, we've visited lots of little villages and seen lots of ancient ruins….but we're utterly befuddled by why the town of Minerve gets ANY write-up in books, and why it has a specific parking area for 7 (count them SEVEN) tour buses  and a remote parking area for an army of tourist cars. There. Is. Nothing. To. Do. In. Minerve. Some junky tourist-trap stores, a couple touristy bars that serve pizza, and a locked up church.  And there is nothing but a corner left of the ancient castle. A CORNER!! So we left; puzzled, hungry for dinner, and more than a little testy (mostly me).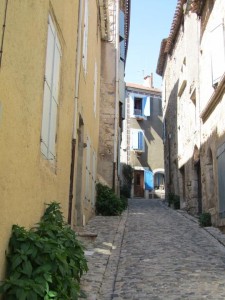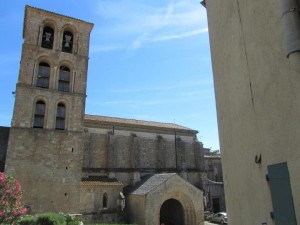 The amazing doubled walled city of Carcassonne saved the evening. The ramparts and 52 turrets welcomed us inside its maze-like streets lined with shops and restaurants. It's easy to become disoriented and lost in such a place…but we knew exactly where we were headed, exactly which pathways lead to Restaurant Saint-Jean and a 'sure hit' dinner a mere 40 feet from the walls of the inner castle, to watch the swallows dive and dart as the sun slowly set into the vineyards outside the ramparts. It's relatively quiet here in June, and walking the cobble stoned streets of this amazingly Disneyesque city at twilight is both romantic and comforting for us. We note changes in shops and confirm usual haunts such as the gallery of our friend Philippe. As we stroll out the main entrance, through the carved stone arches and across the drawbridge, a calm has filled us; a happiness in our familiar surroundings. And we drive home.