Summer in France 2011 – Trip to Bordeaux
Friday, June 10, 2011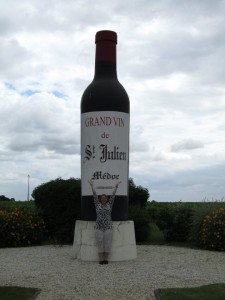 2+ years ago at one of the monthly wine tastings at Gulf Points Liquor, we had the pleasure to meet Jean-Baptiste of the Audy wine family. He was promoting 4 of the wines his family makes in Pomeral and Libourne, France on the right bank of Bordeaux. Not only did we love his wines, but we struck up a wonderful conversation about France and how we were in the process of buying a little house in Axat. He graciously offered to host us to see his vineyards when we were over to set up the house, and we did just that last summer. It was a wonderful visit and we stopped by his offices to pick up some of his wines to start up a cellar. He asked if we'd like to visit the Medoc region perhaps the following summer, and to spend a bit more time at the Chateaus…Yes Please! So in early 2011 I let him know when we'd be back in France, and dates were selected for our next wine tour. Then he sent us the list of Chateaus…wow! Thank you Jean-Baptiste for everything…we had a spectacular time! Here's our story.
Our 3-day wine tasting adventure in the regions around Bordeaux began with 2 tastings in/near St-Emilion; Chateau La Croix de Jauge (Libourne) and Chateau La Clotte (St-Emilion). Chateau de Jauge is a very small family vineyard which produces exceptionally fine wines, most of which is sold via a broker to the world. Monsieur Bigaud graciously showed us each stage of the process, shared a 2010 barrel sample with us, and had us taste 3 of his wines. He even offered for us to come during the harvest and work the fields and sorting with them – an offer we hope to accept some year in the future!
Chateau La Clotte is just outside the ancient rampart walls of St-Emilion and is part owned by the sister of our innkeeper for the evening at Logis de la Cadene. Also a very small family vineyard, we were shown how they store and age the wine naturally in caves dug into the limestone….these caves also lead to a complex labrynth under the city where the stone was removed over the centuries to construct the buildings of Bordeaux and St-Emilion. Who would guess that today the city sits upon a 'swiss cheese' base of tunnels?! Dinner at our Logis was exceptional! Joe had a huge duck breast with the most exquisite charred exterior, and I had the beef cheek stew. Yum!
2nd day we were scheduled for 4 Tasting/Tour appointments, thank you Jean-Baptiste. We drove from St-Emilion around the northern side of Bordeaux, and up the Route de Vin to Haute Medoc & Pauillac, making it just in time for stop 1 at Chateau Poujeaux. A lovely, informative, but a smidge long running tour led to the tasting room for a bit of 2007 vintage. Yes, we enjoyed ourselved thoroughly, but now were late for appointment 2 at Chateau Pontet Canet (and the near 30 minute drive to get there). Although our host at Poujeaux called Pontet Canet to approve the late arrival….they were not pleased when we got there. A bit of smoothing and many voicings of how sorry we were for the delay and we were off to the barrel room, out to the vineyard, and back inside for a nice tasting of wines Way, Way above our price point. We left on excellent terms with a lunch reservation at a restaurant of their approval. BTW…on the way up to Pontet Canet we passed Chateau Pichon Longueville….I'll wait while you google photos of it, and I'll allow time for you to *gasp* at the story-book Chateau. I didn't gasp while we passed….I screamed with utter delight!!
After a lovely, albeit putzy, lunch we were off to appointment 3 at Chateau Semonlon. A very, very, very small vineyard…well, we couldn't FIND it!! Thank goodness they answered when we phoned, and graciously offered to drive over to where we were parked and guide us in. BTW..we parked at the local police station, raising a few eyebrows in the doing. The lovely, young couple running this Chateau were a delight! Very animated, 90% of everything spoken to us in French only, they explained how they make very little, but very exceptional wines. We tasted 2 of their 2010 merlots in barrel, and then 2 of their 2010 cabs in barrel – to compare the differences – and ended with tasting the 2009 finished blend. The pride on Monsieur Dumora's face was overwhelming; such a joyful man. As we prepared to leave for appointment 4, he opened the huge door to his storage room and pulled out a yet unlabled bottle of his blended 2009 wine for us, as a gift for taking time to see his work. We could not thank him enough, but it was he who wanted to do the thanking.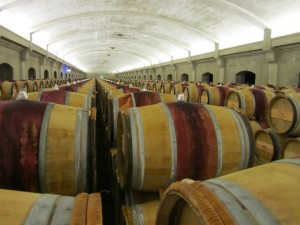 Our final appointment of the day was….wait for it…Chateau Pinchon Longueville, back up the D2 to Pauillac. I knew it was coming and still I was squealing with delight! Photos were taken of the unbelieveably beautiful Chateau and the reflecting pond. It's a must-do. But what separated us from all of the other tourists stopping for photos is that we actually went on a private tour of the grounds, the production rooms, the barrel rooms, the history rooms, and finally the tasting room. And taste we did! 3 wines, each of varying quality and age, were offered for us to taste. Impressions were exchanged among us about a hint of spice, the garnet color, a sensation of new leather on the mid palate, a hint of licorace, and the long finish…ah! Most well, well above our price range, we carefully selected a few bottles to cellar with the anticipation of opening them years from today.
Overnight at Logis Beau Jardin, with a filling and artfully presented dinner and lovely breakfast provided by the inn, made it an excellent stop to rest and refuel for the final day of tasting, shopping, and the long drive home. Next morning, after saying our good-bye to the wooly goat, we were off to our final tasting in Bordeaux in Chateau Lagrange in St-Julien. Arriving EARLY (perhaps because we'd driven the roads 4 times the previous day?) we strolled the beautiful traditional French gardens, stopping to take photos of the swans and decorative bridge. Our tall, brunette model/guide took us on a tour of the grounds, vineyard, buildings, fermentation & barrel rooms, and then to the tasting room. This particular vineyard and Chateau dates back to the 17th century, and fell into ruin during the mid to late 1900s. It was purchased in the 1990s by a Japanese whiskey company and completely renovated to the highest standards…it's truly beautiful. The task of fitting yet one more box of wine into the trunk was becoming a challenge…but we managed.
Heading southward down the D2 we stopped to take a photo of Chateau Lafite-Rothschild, hidden from the road by 2 rows of at least 100 weeping willow trees. We headed into Margaux and stopped at a wine merchant recommended by Jean-Baptiste, Cave d'Ulysse. What a find! As we entered, we immediately noticed a box of 2008 Chateau Semonlon. The merchant was amazed that we'd know this wine, and completely stunned that we'd actually BEEN there just the day before. At a mere 8.50 Euro each, we snapped up several bottles, and rounded out our purchase with a 6-bottle case of 2005 Laieul Leontin from Chateau Colombe Peylande, which came with the highest recommendation, and a few 2007 Chateau de Gironville Cru Bourgeois. I thanked all of those hours Joe played Tetris for the moment he did a complete 're-do' on the trunk to fit the boxes snugly together to avoid any jostling on the ride home.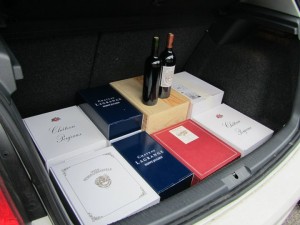 A 'surgical strike' at the Bordeaux Ikea store to pick up a few things for the house, and the obligitory Swedish meatballs, and we were on our way home to Axat. Fearing our window to obtain dinner closing as we neared Limoux, we began in earnest to spot a mobile pizza truck, finding one parked at the public square in Quillan. Fresh, made to order, ingredients chopped up right then and there, our pizza was ready in just 20 minutes piping hot and fantastic! We'll do that again 😉 Greeted by 2 happy, and well fed (thank you Liliane & Pierrot!!) kittie boys, we ploped into bed knowing that the morning would be filled with the fun of putting away all that beautiful wine.
Cheers!!