France 2011 Week 2
Monday, June 6, 2011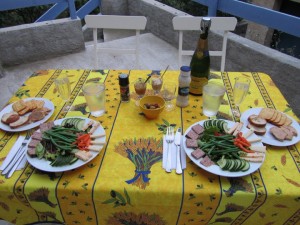 June 4th:  Rain….it's rained for 6 straight days here, and today a CLOUD actually floated past the HOUSE – no, I cannot make that up. Seems this weather system is caught in the gorge just outside of Axat, and it seems to have no interest in moving along. We're hopeful for enough sunshine tomorrow to get out and hike to the Hermitage in St. Paul de Fenouilledes and if it gets really sunny we can also do the loop trail from Cucugnan to Queribus Castle and back. I'll keep you posted.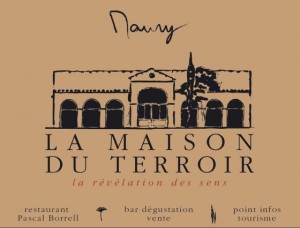 Degustation is a very important word if you like wine. Partner it with the word Ouvert and you've got an open wine tasting establishment on your hands 🙂 This is what we did all afternoon yesterday to ease my rain slogged mood – needless to say, I became much happier in a hurry. The local 5 & 8€ wines fit nicely into the back of the car…fancy that. We closed the day by dining at the only Michelin starred restaurant in the region; Maison du Terroir has a 1-star rating, but we were willing to give it another 2. They were offering an special 5-course menu in honor of the Ascention holiday weekend, and trust me we were hooked. The amuse bouche contained 5 different taste treats served on a wood serving tray fitted for each little dish or cup. A parmesean crisp stick, gaspacho, fois gras w/apricot gelee, pickled mushrooms of the forest, and pork en croute.
BTW we ordered a Cote de Rousillion de Pays, per the recommendation of our wine steward, and he not only aerated it…he wouldn't ever let us TASTE it until it had properly breathed. Nice! Next course was composed of 3 delicate 'pancakes' filled with crab pate served in puddles of green pepper coulis with tiny piles of finely diced green tomatoes topped with coarsly ground sea salt. Not only delicious, but beautiful.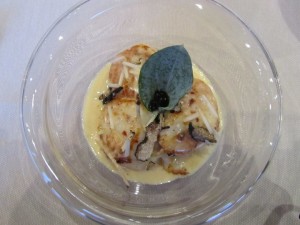 Next we thought we'd died and entered culinary heaven: perfectly seared sea scallops in truffle beurre blanc, atop a dollop of the smoothest mashed potatoes ever, garnished with shaved white truffle and a little green leaf formed into a cone filled with caviar! So Darned Awesome, Joe asked if it was possible to get another serving. Our ever so polished and unflappable server excused herself to ask chef Borrell if he'd allow such an unsual request, and much to our surprise not only was it possible (for a small and very reasonable suplimental charge) but the chef would interrupt our dinner flow and insert the requested 'nother round of scallops (which came with even more shaved truffle this time).
Main course was a perfectly sized piece of roasted veal with a mix of spring vegetables and morel mushrooms. An artful smudge of red pepper coulis beautifully set off the colors and flavors. Dessert (which I was way too full for at this point) were 2 intensely dark chocolate rolls with raspberries and and inch thick coin of capuccino sponge cake. As I was about to pass out in the most glorious food coma EVER…our server brought us an assortment of tiny little finger-tip desserts. Seeing my eyes glaze over, she graciously placed them on a lovely take home tray for us to enjoy once we'd recessitated our taste buds. I blissfully fell asleep in the car on the drive home and slept through a full-on thunder storm during the night. Thank you Maison du Terroir. (will post a photo later)
Monday: yesterday it was nice enough outside to actually hike in the Galamus Gorge down to an ancient hermitage built into the side of the rock wall. It's a short, rocky walk there but the ancient structure and thoughts of hundreds of thousands of visitors, many seeking meaning and enlightenment, filled us with awe. Driving the 'backside' roads around Peyrepetreuse and Queribus castles provided beautiful scenery and a stop to buy pottery appetizer plates from a local shop.
Today I'm preparing for our 3-day wine tasting trip to Bordeaux. So excited! We'll tell you about it next week 🙂
Cheers!