Summer in France 2011 – Abbeys & Forts
Saturday, July 9, 2011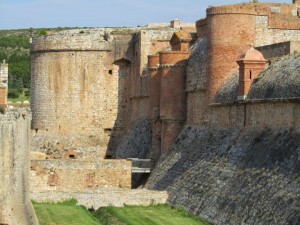 Yesterday, was that maybe the 8th of July???…it's easy to forget the date here, anyway…yesterday we drove east toward the Mediterranean to visit Salses Fort (see new album), then up the coast to Abbey Fontfroide (see new album), and west a bit from there to Abbey St. Marie d'Orbieu at Lagrasse, finishing the loop with dinner in Alet-les-Bains.  It was nice to play tourist for a day and listen to the stories of these ancient places as told to us by the guides.  The Fortress of Salses was constructed by the Spanish from 1497-1504 as a marvel of militaristic architecture  and was an awesome example of the transition between medieval castle and modern geometric fortress.  It even had a drawbridge and moat!  As artillery changed through time, so did the castle; they thickened the outer walls to 6-10 meters (!) to withstand metal cannon balls, which had become all the rage in Spanish/French warring over territory, deepened the flood-able moat, and added defensive 'slits' in the masonry along the passage ways to the keep to shoot the intruders in the legs, body, head, and from above.  It's amazing to think that this fortress was ever taken by the enemy – but it was, and the French took final control in 1642.  The Treaty of the Pyrenees, 1659, established the high point of the mountains as the final border and sealed the fate of the Fortress as an ancient relic.  Thank goodness that it was deemed too expensive to demolish!!  It was awesome!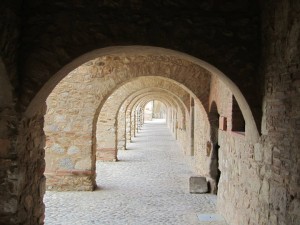 Abbey Fontfroide is a bit difficult to get to from the south – like totally impossible!  So we circled it for an endless amount of time before finally honing in on the structure.  Dating from 1093 this is an impressive structure, privately owned since the early 1900s, in amazingly beautiful condition.  The center garden is truly impressive, but I was more taken with all of the passageways, ancient doors with huge skeleton keys (locked! Drat!), and the beautiful chapel.  It was really hot at this point in the afternoon, and this particular guide talked WAY too much for anybody to stay interested….so we moved along ahead of the group to get nice photos and guess what it was all about.  Much better this way.
Abbey Saint-Marie d'Orbieu in Lagrasse dates back to the 13th century and was built by the Benedictine's.  It's quite a bit smaller than Fontfroide, but I liked it better…the small, intimate feeling and lack of opulence gave it a peacefulness and honesty.  I have no photos of this Abbey, nor of the adorable medieval village next to it filled with shops of potters, artisans, and clothiers, because my battery pack ran too low to take any more photos.  But trust me, this one is a lovely visit!  Surprisingly, there are many, many restaurants and hotels along the main route and centre-ville in Lagrasse, so it looks to be a nice place to stay for a day or two.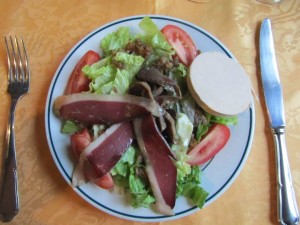 Dinner in Alet-les-Bains at Hostellerie de l'Eveche was LOVELY: seated outside under the chestnut trees, listening to birds chirp and ancient bells toll the time, and smelling the fresh rain scented water.  This hotel and restaurant sits right next to the ancient Abbey structure (being renovated by day…so go at night) on soft green grassy grounds decorated with hydrangeas and ivy.  This village has been a 'spa town' for centuries, relaxing and rejuvinating those in need with natural hot baths and mud treatments…even Nostradamus is said to have enjoyed his time here, and there is a building in the medieval section of town where he is said to have lived.  We dined on amuse bouche of creamy cauliflower mousse with scented lemon oil,rich and sinful rillette, a salad of fois gras, frittons, margaret sec, and duck gizzards (they were soooo tender!!!), then moved on to grilled duck breast with poivre sauce, tournedos with morel sauce, sinfully crispy whole roasted potatoes and baked tomatoes.  Too full for dessert we opted for coffee and lingered in the growing darkness until just 1 other table remained.  We're planning an encore dinner soon.