Summer in France 2014 – The Wonders of Wine
"One not only drinks wine; one smells it, observes it, tastes it, sips it, and ~ one talks about it." ~ King Edward IV
Up to his shins in cartons, boxes, and crates, I observe Joe gleefully enjoying an annual ritual: re-arranging the wine cellar. You see, it's summer and we've just returned home to the Pyrenees, the wind, the cool weather, and the peacefulness of small village living, after two days in the Medoc region of Bordeaux where we toured, discussed, and tasted wines at five Chateaus on the famous Left Bank of one of the most famous wine regions of the world. As always, our sincerest thanks are given to our friends Jean-Baptiste and Nadège of Audy Wines for arranging our tours.
This is our fifth summer in France, and our fifth visit to Bordeaux. Each season we 'zone in' on a particular region to better understand the soil, terroir, harvesting techniques, different methodologies surrounding fermentation, barrel making and toasting methods, and (beh oui!) tasting and shopping. Wine pre-dates written history and has been part of civilizations and cultures around the world since thousands of years before Christ…so who am I to judge good wine from bad wine? Well, lucky for me it is all a matter of taste and preference.
In the past, we've visited Chateaus in and around St-Emilion, Côtes de Castillon, Fronzac, Pomerol, Haut-Médoc, etc. This year I asked Joe where he'd like to focus our attention and he quickly replied 'Pauillac'. These wines are rich, full bodied, and tannic and are often described as having earthy, smoky, and sometimes spicy flavors which soften and become rounder as the wines age. Yum! Being so close in proximity, we also visited a couple Chateaus in Margaux…think wines which are silky, elegant, and sensuous. How could we miss?!
So we made the 4-1/2 hour drive northwest from Axat to Pauillac, following a lovely lunch at Tantine & Tonton in Limoux and a visit to Geoffrey to clip up my coif. Traffic on the highways moved along nicely and we arrived at our B&B in St. Lambert in time to visit with our innkeeper Dany and head to Le Saint Julien in St-Julien for dinner. Linen tablecloths, candles glowing, soft music playing, gourmet cuisine….this was a truly elegant restaurant.
A 1998 bottle of the local juice and some decadent foods ordered, we soaked up the ambiance and eavesdropped on conversations at the neighboring tables. One thing is for certain: Bordeaux attracts wine snobs, and wine snobs just LOVE to tell everybody near them how much they know about everything to do with wine. Often-times *sigh* these 'oracles of knowledge' are American men in their 60s or 70s who have a flair for wearing an expensive sweater about their shoulders, even in hot weather, and for talking loudly about their polo pony Sebastian. But I digress. Our tasty dinners completed, we made our way back to the B&B and tucked into bed. Oh, did I mention that the 'Lou Bercail' B&B in St. Lambert is directly in the backyard vineyard of Chateau Pichon-Longueville??….how awesome is that?!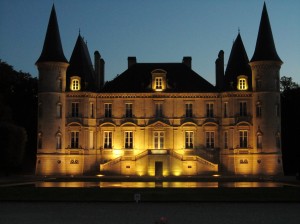 The following morning, after a beautifully presented French breakfast, we made our way to and from two Chateau visits, enjoyed a filling and yummy (albeit slightly rushed) lunch, visited another two Chateaus, slipped to our room to refresh for dinner, dined on foie gras / salad/ and gambas, sang Happy Birthday to a neighboring table, and flopped back into bed exhausted and exhilarated! It is SO EASY to sleep in these small wine villages….because they button up by 9:00 or 9:30pm…not a shutter left open…not a peep other than nature telling stories in the growing dimness. And it's been cool – unusually cool – into the 50s at night, making for perfect snuggling and windows open. Ah Heaven!
Next morning we made our final Margaux visit, did a little local shopping, ate a light lunch, and ventured to Libourne where we had an appointment to pick up wines we ordered last summer on premieur and to select some wines from the Chateaus we had just visited. I absolutely love the conference room at Audy; one wall has a long counter filled with umpteen bottles of wines to taste, and there's a gigantic spitoon in the corner. I mean gigantic! Like birdbath for an ostrich gigantic. It's awesome.
Wines packed into the car, we made way to St-Emilion to pick up a small order of 2013s on promotion at Chateau La Clotte, and then to visit with the Chateau owner's sister, Marion, and her effusive, winemaking husband Abdou at their St-Emilion home for aperitif in the backyard. Marion & Abdou have been owners/chef of Hotel & Restaurant La Cadène in St-Emilion for 33 years – and they just sold it this year after deciding it was the time to retire. Since we'd stayed with them several times on previous wine visits, we've got to know them and have become good friends. Local winemaker, Bob, of Chateau Fleur Cardinale Grand Cru Classé also stopped by for aperitif, so this was a terrific opportunity to talk about wines, the weather, where we'd just been visiting, and the extremely difficult 2013 vintage. Sitting under a shade tree next to their ancient home built from the rock beneath this medieval village, just on the edge of the walled city and inches away from plot after plot of the most prized vineyards in the universe, we sipped wine, nibbled on Abdou's homemade paté with cornichons, laughing and exchanging stories well past when any reasonable person would have departed to make a four hour drive home. But these were special moments and special friends. And although we arrived home well past midnight, a deep sleep rejuvenated us and we were welcomed by another beautiful morning in Axat.
I am constantly overwhelmed and humbled by the goodness and generosity of people we meet here; how they open their homes and hearts, share their knowledge and wisdom, and welcome in these two Americans who spend the summer months in a small village in Southern France.
Life is good my friends – drink it by the glass with a nice, stinky cheese!
Special thanks to the following: Catherine at Chateau Lilian Ladouys (St-Estephe) & Chateau Pédesclaux (Pauillac), Emeline at Chateau Grand Puy Lacoste (Pauillac), Pascale at Chateau Fonbadet (Pauillac), Sandrine at Chateau Marquis de Terme (Margaux), and Delphine at Chateau Labégorce (Margaux) & Chateau Marquis D'Alesme (Margaux).