Summer in France 2014 – A Tale of 3 Cities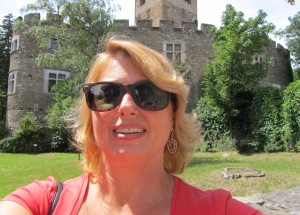 As I sit in a charming, Alpine country decor apartment on the east facing slope of a valley just south of the Great St-Bernard Pass, sipping coffee on a rainy morning as the church bells from the village across the valley chime the hour in spine tingling dissonant tones, I find myself drawn to formulating comparisons. It's an interesting way to share personal insights on a multitude of subjects: people, places, events, brands of coffee…pretty much anything can be compared. I've had the good fortune to spend a block of time in quite a few well known cities; walking their streets and trails, eating local cuisine, observing the culture without being a full-on fanny pack/loud T-shirt/floppy hat/hiking boots out of the box kind of tourist. And I find myself comparing and contrasting three of these towns, villages, cities…use a word you like.
Chamonix, Zermatt, and Aosta are all in the relatively close tri-country portion of the Alps where France, Switzerland, and Italy meet up around the iconic mountain peaks of Mont Blanc, the Matterhorn, and Gran Paradiso. My ruggedly handsome and outdoorsy husband, Joe, has climbed all of these peaks, and many more, which is why I'm here…and not being a mountain climber myself, I've had the time to relax and soak up the ambiance. Although often-times catering to a tourist population, each of these cities goes about it in a different manner. So, these are my thoughts about these popular travel destinations.
Chamonix:
Located at the base of the awe inspiring, jaw dropping Aiguille-du-Midi and Mont Blanc Massif, Chamonix is a cosmopolitan and multi-cultural city filled with high-end shopping, dining, hotels, and spas. On my first visit to Chamonix (a choir tour) all I could do for the first 30 minutes was stand on the balcony of my hotel room and stare up at the mountains. The view was incredible! As a group we took the lift up the mountain to the observation deck. I chowed down custard filled pastries. We marveled at shop windows filled with carved wood trinkets. We ate melted cheese in numerous forms. And we provided a fabulous concert to both locals and tourists alike. It was story-book.
But having gone back, without the eagerly wide-eyed group and flag bearing tour guide, I've seen it a bit more for what it is: a beautiful and historical city, built on mountaineering, which nowadays caters to a year round stream of tourists from around the globe. Once local crafts people and merchants have been replaced by trinket shops selling pre-fabed tourist souvenirs made in far away impoverished countries. High-end retail and pricey outdoor gear are everywhere. Cars clog the charming cobbled streets. And dog poo…..just too much dog poo. Don't try petting anybody's dog either – that's a total no-no. These glitzy people are just not very nice. Quick to warm up foods like raclette, fondue, and croque monsieur are king – and command prices way above their cost. It's a terrific city for those wanting a glossy, rich and famous, feel like you're in nature without really touching it kind of vacation. It's also wonderful for those people who really ARE skilled in hiking, climbing, skiing, and mountaineering. These guides and sporty-folk are full-in on the natural elements and are handsomely rewarded by these amazing mountains.
*note….there are also lots of unskilled 'rented gear thrill-seeking' novices who are in every way a danger to themselves and to others. Like the thrill-seeking dad who nearly got his kids killed because he is a publicity grubbing idiot. Ok…'nuff said.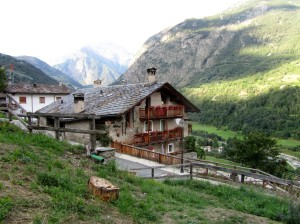 But for me, I favor the small village of Argentière, just north of Cham (notice my climber slang there…I pick things up) It has all of the natural beauty, of Chamonix but none of the glam. There are small, charming, and serviceable shops (butcher, patisserie, fromagerie, etc) and the prices are in line. It's relaxing and beautiful. I've been there twice – I recommend it.
Zermatt:
Accessible only by electric train, this electric service vehicle only village in the Swiss Alps endures a daily onslaught of international tour groups: huge clans of identically dressed, camera totting, rented gear, mountain thrill seekers each being mommie goat led by a banner waving tour guide announcing each and every step they take from train platform to hotel over a portable microphone system. They're like a virus. Invading, taking over, pushing everything out of their way, with no concern at all for anything or anyone in their path. I know this from having spent nearly two weeks in the cozy and comfy Hotel Bahnhof, which sits at the apex of the train platform and Gornergrat lift station, witnessing their arrivals and departures. And although it's a darling and picturesque city, invoking images of the movie 'Heidi' with decoratively carved wooden shutters, flower boxes filled with bright blooms, accordion music, oompah band beer gardens, and shops all dolled up for a Swiss milking fest, this place is ridiculously expensive. I mean, like think up a number that is too high – beyond your normal vacation spending…okay, now triple that – or maybe quadruple it – and you might be close. Seriously! Thank goodness the Bahnhof had a communal kitchen for guests to prepare meals, because restaurant dining was out of the question. Just buying food at the grocery store made me feel short of breath. I became a vegetarian more or less out of budgetary constraints because meat was sold by the gram….the GRAM! At every turn I felt like a human cash machine, spitting out bills. *sigh*
Don't get me wrong; nature is wonderful here. But you have to share it with 500 of your newest friends as lift after lift after lift carry an endless stream of tourists to the tops of every mountain range so they can enjoy a few hasty views before they snap a photo of their kids with a St. Bernard (for a fee…), buy cutlery, chocolates, and sweaters in a gift shop, and then generally destroy all of the plant life under foot as they trek down multiple overly trod paths to lower lift stations/gift shops/microwave sandwich patio cafes/fancy hotels/etc.
Having conversed with locals and mountain guides, I got the skinny on why Zermatt has become such a tourist destination. It's mostly because of two factors: 1)the amazing and iconic Matterhorn. To see it or to try to climb it – this peak is famous for a reason: it's awesome. And 2)the strength of the Yen against the Swiss Franc has assisted Asian tour companies in successfully marketing Zermatt as a vacation destination. So…there you go.
Did I enjoy some of the activities offered by Zermatt? Sure I did. In fact, I went way outside my comfort zone, ponied up for a 5 day lift pass, hiked down 2,000 meters (alone!!), paraglided off of a 10,000 foot mountain, bought local trinkets, ate melted cheese, drank local beer, enjoyed their oompah music. But did I like Zermatt? Would I go back? Would I recommend it to my friends and neighbors? No. It's a tourist trap, and it has none of the glam or glitz of Chamonix. Save yourself from bankruptcy and visit the Matterhorn from the Italian side – you still get amazing views, all of the natural beauty, and you'll have enough funds to get all grappa'd up and enjoy yourself like a drunken sailor.
Aosta: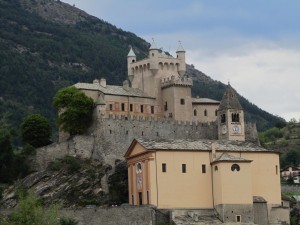 This relatively small Italian city, just east of Mont Blanc and in a mountain cirque just north of Gran Paradiso National Park, is chocked full of Roman ruins, charming stores and restaurants in the pedestrian only village center, and is a hub to explore and enjoy numerous waterfall fed, verdant valleys filled with castles and tiny villages. It's Lovely! I first glimpsed this very northerly portion of Italy from the window of a choir tour bus. As we emerged from the Mont Blanc tunnel I was star-struck by the intense green of the forest and field landscape – and by the sheer number of castles. There are castles everywhere around here! Many of them are either restored or in the process of being restored – and they're beautiful. Tours are cheap too; usually just 3-5 euros. But there's something special here that's hard to quantify. Maybe it's the absence of tour groups. Maybe it's the way practically everything seems to close for 3 hours (or more) in the middle of the day. Maybe it's just the vivid color contrast of lush greens against the churning milky-white glacial waters of countless waterfalls, rivers, and streams – the rushing sound echoing through the valleys – the tiny, Swiss Family Robinson villages dotting the walls of the valleys – the nonchalant mannerisms of the people – the way the clouds build into a swirling mist haloing the mountains and then tumbling down the slopes into the valleys – it's easy to let go of familiar trappings and stresses of modern living in this place. To live more simply. To listen more and say less. To speak volumes with only a smile or a laugh. Eyes twinkle here. Food is simple here. Days are long here. Time gently passes by.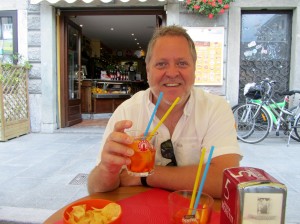 Do I speak Italian? No. But I speak some French, and this part of Italy used to be under French rule. Many locals still know French, or at least some French, so I'm getting by quite well, and they are more comfortable speaking broken French than any English at all. So we're all get along with our French 101 skills. Do the locals terrify me with the velocity of their confident driving around these narrow, twisting, mountain roads? Absolutely! And I've honed my mountain driving skills on some of the most harrowing roads in southern France. But these people are FAST – like butt-puckering, white knuckle, stop sign ignoring, hold your breath fast. I've cried out in terror quite a few times over the past week as I was sure I'd be thrown over the side of a mountain, and that my car would burst into a fire ball. We've both been honked at even when we were doing the right thing. But get off the roads and it's all tranquil, languid, nothing in a hurry. "Sì, sì. Un momento."
Mountaineering, climbing, hiking….they're all here. Mont Blanc? Check. Gran Paradiso? Check. Grand Jorasses? Grand Combin? Check and check. Matterhorn? Well, it's a little bit of a drive, but yes – check. Skiing, hiking, cycling, trekking, climbing, sightseeing, dining, shopping, art, culture, music…it's all here. And without any of the hype, glitz, glam, hoards of tourists, expense, or inconvenience of Chamonix or Zermatt. There are lots of local buses (even in the high elevations) for those without a rental car. So everybody can get around. Cheap eats. Gorgeous views. Friendly people. Ancient historical sites. Aosta.
So, what have we learned here? Sometimes the less well-worn path can provide all one needs, if you're willing to unplug a little and to walk without the aid of a flag waving tour guide.
'Cin Cin' to the Aosta Valley.