Summer in France 2013 – Bacchus
Disclaimer: Sometimes our life experiences happen in more than 1000 words. But if you love wine, food, and friends then you'll enjoy this accounting of our annual pilgrimage to the Bordeaux region. So, pour yourself a glass of your favorite Grand Cru Classé and get comfy as we travel to St-Emilion.
Standing next to a sweetly scented honeysuckle, serenaded by singing frogs and screech owls, while overlooking the village of Pessac-sur-Dordogne far below, we're about to tuck into desserts to end an unplanned private, 7-course dinner of unmatched gastronomic heights, and a gentle sigh escapes my lips. Contentment. Peacefulness. Satiation. Sleep will come easy tonight in the tastefully appointed guest room above the beauty of Ginette's garden, the Dordogne gently passing just steps below. Pessac is too far off the path for most travelers, and few pass through here. But those who do are rewarded handsomely with the hospitality of Serge & Ginette Modet at Au Bord de L'eau B&B; the warmth of their welcome, aperitif on the terrace, pleasant conversation, quiet relaxation…nothing hurried.
[wpcol_1half id="" class="" style=""]

[/wpcol_1half] [wpcol_1half_end id="" class="" style=""]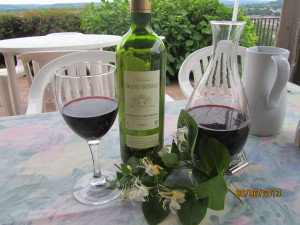 [/wpcol_1half_end]
One of the natural benefits of spending summers in France is learning about and enjoying wine. Since 2010 we've visited several famous vineyards such as Pichon-Longueville, Pontet Canet, Fleur Cardinale, and Lagrange. We've also visited some not so famous vineyards: Semonlon, Croix de Jaugue, and Font-Vidal for example. This year we enjoyed tours and tastings at Chateau Lideyre in Vignonet-Castillon, Chateau Beau-Séjour Bécot in St-Emilion, Chateau Barrabaque in Fronsac, and Chateau D'Aiguilhe Côtes de Castillon. To date, we've visited roughly 20 French estates, through the generous assistance of a friend in the wine business, and with each estate come new ideas, practices, history, and friendships. People in the wine business are passionate! About the soil, the vines, the weather, the fermentation, about everything to do with the making of wine. But they are also passionate about sharing their wine and having people enjoy their wines so much that they get others to enjoy it as well. That's where we come in.
It was a pleasant 4 hour drive from Axat to St-Emilion; broken up by a sun drenched picnic lunch of freshly baked Bannette bread, patés, cheeses, crudités, fruit, and (naturally) wine. The Auto-route in France is speedily efficient and dotted with many Aires (rest stops) to refresh both mind and body with the traditional trappings and needs of the road. One distinct difference from US to French rest stops are the coffee machines. This Aire had SIX machines – 6!! Each one nearly exact in content…just making sure that they don't run short on product maybe? But I applaud the over stocking. We each had an espresso to end our picnic; mine straight, Joe's with sugar….and then the magic happened. As his finished dispensing, it dropped in a clear, plastic stir paddle!! I'll say that again….it dropped in a little paddle, yes, from the machine, into the cup – just for the coffees which require stirring. No cruddy caddy of sticks covered in everybody's germs sitting on a forgotten stand next to the machines…No! A Fresh, Personal, Clean, Stick Just For Joe. AWESOME! (what? just me excited here?)
The well respected and centrally located Logis de la Cadéne (http://logis-de-la-cadene.com/) is our usual lodging in St-Emilion, and we've become fast friends with the proprietors Marion & Abdou Maarfi, but they were booked solid with a large group of Americans-who were a bit of an undisciplined and demanding handful. Hmm….I wonder why Americans seem to carry around a negative image in Europe…hmm. So we stayed at Hostellerie de Roques. Slightly outside of St-Emilion, it's just your ordinary 16th century castle…….Not! I felt like a Queen; strolling the expansive grounds, admiring the varieties of roses, tweeting with the birdies as they flitted about.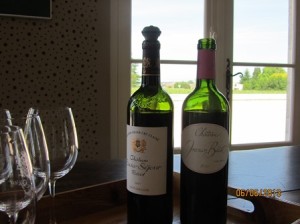 But for dinner we ventured back to the village for the world's best vine shoot grilled duck breast lovingly prepared by Chef Abdou at La Cadéne.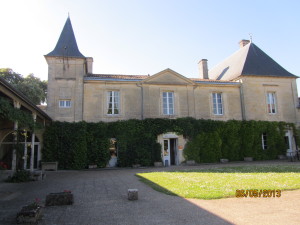 [wpcol_1half id="" class="" style=""]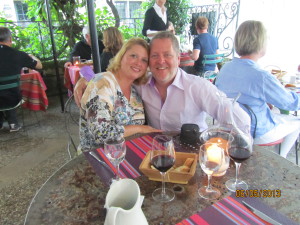 [/wpcol_1half] [wpcol_1half_end id="" class="" style=""]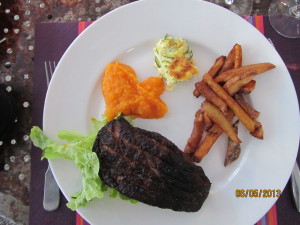 [/wpcol_1half_end]
I 'uhmmed' and 'mmmmmed' in near ecstasy with every bite as the charred exterior mingled with the juicy, tender flesh of the meat. If ever in, or near, St-Emilion….eat this dish at this restaurant. Accept nothing else. Trust me. The night grew late as we shared Abdou's wine, stories, and wisdom at the hosting table under the wisteria, and plans were made to meet up Friday morning to see their house…to talk about doing a house exchange in the future. Sweet!
10:00 the following morning we arrived along the banks of the Dordogne River in Libourne to meet our guide Nadège at JB Audy Wines and begin our tours at the first 3 above-mentioned Chateaus. Jean-Baptiste Bourotte (great-grandson of Jean-Baptiste Audy) was in Fort Myers in the early 2000s promoting the wines of his family, and we happened to be at that tasting event. Sometimes you just click with people…well, we've clicked. He's disarmingly handsome and charming and has a rich history in the wine making business.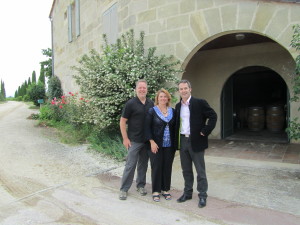 Since 1906, they've been a well-regarded negociant house of the region, buying and selling wines all over the world, all the while running 4 family estates. So…we could only do worse for our tasting and shopping guide. For this trip, Joe asked if we could try to visit wine makers of the Castillon (an unusual request). First visit was with JBB's younger cousin, Paul, at Chateau Lideyre. He explained to us how his family had introduced the practice of allowing vegetation to grow between the rows of vines, to promote a more naturally balanced ecosystem in the fields, and to encourage the vine roots to go deeper into the limestone for better flavor and complexity. Now, nearly everyone follows this practice and wines are being produced without the chemical fertilizers, insecticides, and herbicides which were common practice in the 60s and 70s. You can taste the freshness of the limestone on which this entire region is built.
After a stunning lunch of fish & seasonal vegetables back at La Cadéne (monkfish for me/salmon for Joe) we meet Emily at Beau-Séjour Bécot to learn how this wine giant has changed and modified through the ages. *Highlight Moment* touring the catacombs under St-Emilion and hearing how the labyrinth of tunnels have been used for prisons, churches, hiding of artifacts/wine/people (especially during WWII), and even for the practice of the occult (as discovered by Marion's sister in the tunnels of Chateau La Clotte!). The limestone was quarried out from below the city in huge blocks, which became the building material for most of the chateaus and buildings around the entire region, leaving the city sitting atop a foundation of 'Swiss Cheese'. As we made our way in the dimness, past stacks and stacks of bottles of wine from many years in the near and distant past, Emily pointed out a frog which appeared 4 or 5 days earlier…likely dropping through an air vent from the surface. She shows great sympathy for this lost traveler, but hasn't the courage to pick it up and return it to the daylight. Joe calmly approaches the lost creature, gently cups it in his hands, and we all make our way back to the entrance where he carefully deposits it under thick bushes so it can adjust to the daylight. Joe is proclaimed a true hero as Emily thanked him again and again for his kindness. En route to the tasting room we bump into our friend Jean-Baptiste meeting with Juliette Bécot (3rd generation of the Bécot wine dynasty) and Joe's 'heroic' act is recounted for the group. We're pleased to get to taste not only the 2007 Beau-Séjour Bécot Grand Cru Classé, but also the 2010 Joanin Bécot – Juliette's private label…. a Castillon wine!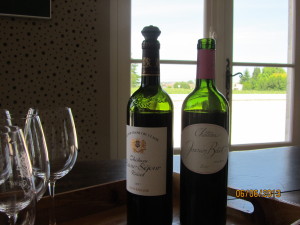 Thanks and goodbyes exchanged, we returned to Libourne to rejoin Nadège for our final tasting in Fronsac at Chateau Barrabaque with owner Caroline Noël-Barroux. The estate has been in her family since 1936 and was run by Nicole Noël until 2004, when Caroline took over the production and operations of this powerful, yet elegant wine. The small estate has produced wines since 1747, and still hand-picks and oak ages their wines to this day. Happy surprise of the day: Caroline can sell her wines directly to the public, so we negotiated the purchase of 6 bottles of her 2008 vintage. In appreciation, she tossed in a cadeau bottle of the family rosé, and as soon as the weather here warms up enough for me to break a sweat, we'll enjoy that bottle well chilled while lolling away an afternoon.
Back at JB Audy, we placed our order for wines to buy now – and wines to order on primeur (the futures market…substantially cheaper to buy and the best way to slowly stock a wine cave) Plans were set to return Friday after lunch to collect our purchases, and all of the wines we'd collected along the way these past 2 days. Let's just say, it had become quite a tower.
So we made our way to Pessac for a relaxing evening with Serge & Ginette. But Serge recommends we dine just up the road at a lovely restaurant overlooking the Dordogne. And the multi-coursed dinner prepared by Chef Michel Pestel at Le Belvédère didn't disappoint! Duck foie gras is a regional specialty of the Dordogne, and starred our dinners from starters to main plates (bloc, mi-cuit, and atop tender beef steak). The booziest pear sorbet in the universe cleansed Joe's palate (and knocked my socks clean off into the washer!) between his two main plates of scallops & prawns in creamy turmeric sauce and beef filet topped w/foie gras and truffle sauce.
[wpcol_1third id="" class="" style=""]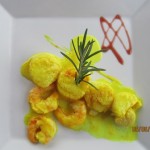 [/wpcol_1third] [wpcol_1third id="" class="" style=""]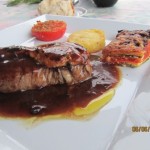 [/wpcol_1third] [wpcol_1third_end id="" class="" style=""]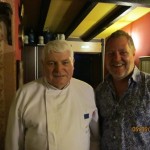 [/wpcol_1third_end]
Meanwhile, my twin tournedos of duck breast in balsamic honey glaze were tender enough to melted on the plate. A cheese platter was presented for our selections: creamy, salty Roblochon, buttery St. Nectaire, (we declined the Roquefort tonight), and an exquisitely nutty tome of Le Trappe Echourgnac. One bite of this cheese (handcrafted by nuns and monks since the mid-1800s and redefined by the addition of a walnut liqueur wash) vaulted me back to the south-eastern Wisconsin forests of Kettle Moraine State Park, where my family harvested bags of hickory nuts to dry in the basement for Christmas cookie baking. Oh, the deep connections of taste and memory! I jotted down the information on this cheese in my newly started cheese tasting booklet…this was a surprise treat! Decadent desserts arrived as the sun began to set and eyes became heavy from a very full day of appointments and traveling.
We arose to an indecisive sky of clouds and sun following a deep sleep in the warmth and comfort of Ginette's prettiest guest room. A stunningly beautiful breakfast was set for us in the garden where we'd enjoyed aperitifs and conversation the night before. Fresh berries macerated in sugary syrup, croissants and pain au chocolat, a gleaming bowl of freshly picked cherries, homemade conserves, and juice/tea/coffee. My heart welled up in thanks for this beautifully presented meal so lovingly prepared. As we began our departure to return to St-Emilion to meet with Marion and then tour Chateau D'Aiguilhe we gave Serge and Ginette a cadeau: a copy of our Vocal Artistry CD 'More Than Music'. Upon noticing that an impressionistic rendition of Joe in his custom VA tail coat (as painted by artist Leoma Lovegrove) was on the CD cover, Serge showed us the goose bumps on his arms and tears welled in his eyes. Music touches the soul no matter what the language – and our gift was received with deeply felt gratitude.
The home of Marion & Abdou Maarfi sits at the southern entrance to St-Emilion, tucked away down a private road and walled by ancient outbuildings and vineyards. It's a sanctuary within a historic village normally overrun with tourists. And for these two hardworking innkeepers/restaurateurs it's a necessary oasis to refresh mind, body, and soul. Knowing we had an appointment to keep, Marion led a quick tour followed by coffee in the garden under a gigantic shade tree. The openness and kindness of the people we have met in this country still overwhelms me at times, and I'm humbled by their generosity.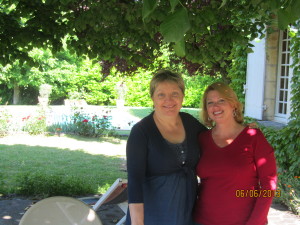 Just minutes away, near the little known village of Puisseguin, sits the ruin of a castle dating back to the 12th century – Chateau D'Aiguilhe. A local legend has it that there was once a Gallo-Roman villa on this site. Much later, the château is said to have been a stronghold for the Knights Templar, who defended the road running underneath used by pilgrims on their way to Santiago de Compostela….for a fee. During the Hundred Years' War it was long a bone of contention between the French and Anglo-Bordelais armies, and changed hands with the tides of war. The château was acquired by the d'Albret family and then came into the hands of the Leberthon family, who produced many members of the Bordeaux parliament. The Leberthons sold Château d'Aiguilhe on the eve of the French Revolution to a certain Etienne Martineau. He expanded it into a huge estate with four hundred hectares of vines in a single block. His decedents remained owners of the château until 1920 when it suffered badly due to fire and became abandoned. Stephan von Neipperg acquired Château d'Aiguilhe in December 1998.
Although we didn't get to personally meet the controversial Stephan von Neipperg (he carries the title of Count of the Holy Roman Empire and is known for wearing boldly striped ascots and silk handkerchiefs tucked into the double-breasted blazers he favors even on the warmest days…often times with a bright orange sweater wrapped around his shoulders) we were warmly greeted by the handsome, smiling face of his German director of operations. No doubt he offered us his name, but quite frankly I was a bit dazed by his chiseled looks and my ears lost touch with the conversation. He gave us a tour of the grounds, informed us of the history noted above and said they have plans to improve the gardens and property to offer it as a destination for weddings and special events…but right now they're focusing on the wine. And it's because of Joe's affinity for this particular wine that we had this visit at all. He boldly e-mailed the estate stating that he's been purchasing it on primeur for a number of years, that we'd be visiting St-Emilion, and that a Friday morning tour would fit nicely into our schedule….and that offer was accepted!! As we arrived a huge tour bus full of Swiss wine merchants was just leaving (with the Count on board as guide!) – so this private tour was a bit out of the ordinary. What can I say, Joe is charming and has a way with words.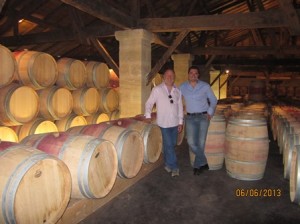 Most wine tours run about 30-40 minutes, and come with a tariff of 10+ euros per person. Because of our association with Audy, we've had lovely tours over the past 4 summers; each usually an hour or so including tasting time, and all complementary. But we set up this tour ourselves…via e-mail. 2.5 hours after we began our tour of this expansive estate, we were headed back to Libourne for our final meeting with Nadège, with a nearly full bottle of 2008 Chateau D'Aiguilhe as a take away gift. We'd seen the grounds, the castle, the production rooms, the barrel room, and tasted the '08 and '11, which had JUST been bottled the day prior. If you're reading this blog – contact your wine purveyor and get some of this wine! It is simply AMAZING….and it's a Castillon. Surprise!
And so we loaded the car with case upon case of wine: six 2010 Ch. Poujeaux and six 2010 Ch. D'Aiguilhe (bought 2 years ago on primeur), 7 rosés from Abdou's private label, six 2010 Ch. Joanin Bècot, six 2010 Ch. Lideyre, six 2009 Ch. Les Hauts-Conseillants, six 2011 Ch. Semonlon, six 2008 Ch. Barrabaque, and 3 gift bottles: a 2012 rosé from Ch. Barrabaque, a 2007 La Fleur de Jaugue from Audy, and the 2008 take away from Ch. D'Aighilhe. The wine cellar just received a gigantic infusion of stock. Sleep well dear wines…we'll taste you in 8-10 years.