Summer in France 2012 – Chorus Interuptus
Wednesday, July 18, 2012
We interrupt this regularly scheduled vacation to bring you the following special event – Key Chorale of Sarasota Concert Tour 2012/Ireland & Scotland (*cheering sounds of a thunderous audience*)
July 6-17 members of the Key Chorale toured the countryside of these 2 chilly, damp countries and visited Bunratty, Killarney, Killkenny, Dublin, Blessington, Glasgow, Stirling, Dunfermline, and Edinburgh. We sang in ancient churches and cathedrals, a new church in the countryside, and even Carnegie Hall. We visited Castles (Bunratty, Killkenny, Stirling, Dublin, Edinburgh…I've likely missed a couple) and So Many Churches and Ruins and Abbeys and Monuments and Historic Sites…Wow! did we pack in the sites on this trip. We met friendly people, ate 'Full Irish Breakfast', walked cobble stoned streets, shopped for woolens, whiskey, and postcards….shopping galore! Every chorus member was walking around with shopping bags from here and there getting gifts for friends, family, and themselves – oh yes, I believe we collectively infused their economy a bit 😉
But the main reason for this tour was for the music – to share our love of it, and our talent for it.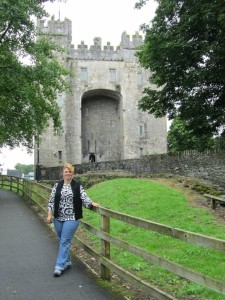 We blew off the cobwebs and melded as an ensemble during 2 rehearsal sessions at the Malton Hotel in Killarney (a beautiful and well appointed hotel in the town center). During our lunch break Joe & I wandered into the town and found a little restaurant above a pub. It was Sunday, so they were only offering 'The Full Irish Breakfast' but that was fine as we had worked up an appetite during the morning rehearsal session. The restaurant was rather quiet this day, but downstairs was a full ruckus every now and again…as if a major sporting event was taking place. A group of 4 beefy Irish lads sat at the table next to us and quickly tucked into their helpings of baked beans, sausages, hash browns, bacon, toast, and tea. As more cheers erupted down below I asked if it was because of a soccer match. "No" came the reply. "It's Sunday…they've been at it since 9:00"  Another round of cheers erupted.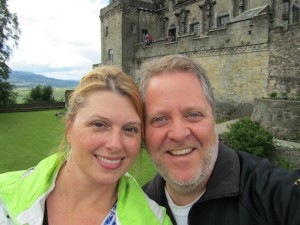 First concert: a grey and rainy evening didn't keep the audience at bay in Killarney as we sang our opening concert at St. Mary's Church of Ireland. A cozy, ancient church with lovely architectural detailing around the ceilings and windows welcomed us with and shelter from the inclement weather, and an enthusiastic audience of townsfolk and tourists showed appreciation for our collective and individual efforts. Several soloists added diversity to the program, and accompanist Nancy Yost Olson played superbly despite her recent ankle injury.
Second concert: a full rain kept the audience at bay as we filled the incredibly beautiful St. Canice Cathedral in Killkenny with glorious music. Such a shame as this was (in my opinion) the most beautiful church of the tour. AMAZING stained glass and the carved ceiling details were unbelievable! I've been inside many churches in America and in Europe…This Was Stunning! (unfortunately, the piano was well less than stunning…thank you Nancy for powering through given such a challenging instrument)
Third concert: it's funny how what may seem on paper like the ho-hum concert turns out to be such a highlight. It was a long drive from Dublin through the countryside to the little community of Blessington but we were rewarded with a warm and friendly home-town audience and a post-concert reception feast in the parish hall. Thank you ladies for the endless supply of cakes and sandwiches laced with rich, Irish butter. We felt more than welcomed in this the home of 'The Irish Blessing' as members of the church lined up to wave good-bye to us as we pulled away to return to Dublin.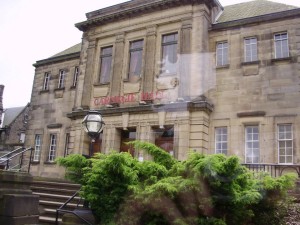 Fourth concert: An enthusiastic crowd in Sister-City Dunfermline Scotland welcomed our Chorale as we sang at the original Carnegie Hall. What a treat to have stage lighting, risers, dressing rooms, a velvet curtain, and an awesome Yamaha Grand Piano! Members of the community gave official and humorous speeches of welcome and gifts were exchanged in the name of Sister-citydom at a post-concert gathering. Oh how I wish we could have arrived an hour or so earlier as it was 'market day' in Dunfermline…and I love open air markets. *sigh*
Final concert: It was truly a thrill to be given private guided tours and to sing in the magnificent St. Giles Cathedral in Edinburgh where our voices rang and rang and rang. The delay was delicious! It was a pleasant surprise to have so many, many people attend our concert this day as part of their mid-week concert series. And I must offer a Thank you to Maestro Caulkins for asking me to sing my solo piece in this wonderful space.
All along the trip members of our group picked up gifts, shared stories, made new friendships, and took tons of photographs to document our travels. Many thanks to members of the tour committee, Richard Storm, Joseph Caulkins, our tour guides and bus drivers, and to the supports of Key Chorale. This was our BEST tour yet!