Summer in France 2011 – what have we been up to?
Wednesday, June 22, 2011
….what have we been up to of late?  Hmmm.  Let's see.  Sunday we went back to the weekly open market in Esperaza.  It's an awesome mix of produce, bread, mobile meat trucks, flowers, hippies, and music.  We hit it big with fresh raspberries, girolle mushrooms, melons, sweet red peppers, hericots verte, a 6-pack of yellow flowers (with 7th tossed in for free), yummy dried fruits, a lovely green scarf pour moi, and ….the most awesome rosted chicken & potatoes!  We're considering making this a Sunday ritual.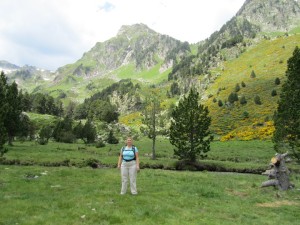 Took a wonderful 4.5 hour loop hike near Cucugnan a few days back!  It's 'the hard way' to get up to Queribus Castle…up the side of the mountain from the village.  Makes the theme music from Monty Python & the Holy Grail play in my head everytime I approach a castle in this manner.  It was a pretty rugged hike up the clay colored rocky trail past blooming yellow sage and olive trees, then pines and figs, and finally we reached the parking area where sissies in flip flops were emptying from minivans.  It's not our style to approach castles from the parking lot.  Then we trekked steeply up the ancient path to the doorway of Queribus Castle….our 2nd visit here (having approached it from the other side in Maury 4 years ago…THAT was a long day of hiking and climbing).  Sunshine bathed the castle this day, but the seemingly calm wind just howls through the archer slits, windows, and crumbling walls, nearling knocking you over as your near them.  On the decent, Joe opted for the 'extra credit' pathway from the castle doorway to the neighboring mountain so he could get some nice photos with his ancient 'hard film' camera.  A brief stop to pet the friendliest wandering herd of goats and we were continuing on the optional loop trail to descend back to the village.  It was a lovely trail, a beautiful sunny day, and all around a great day of physical activity.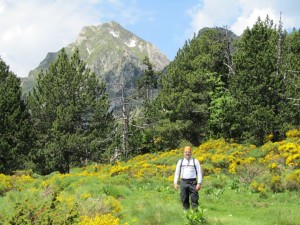 Yesterday we headed South near Querigut to climb to the mountain lake Etang d'Laurenti.  The guide book put this as a 1 hour climb up to the lake…but didn't mention that the terrain is like climbing a 'mostly' dry waterfall filled with huge bouldery rocks and the ocassional squishy grass/mud spots.  My short legs were truly challenged, and the mountain elevation caused me to take many breaks to ease my anaerobic breathing.  We passed a jovial trio of 'mountain masons'  in the process of constructing a building in a high meadow…perhaps a refuge for climbers.  A helicopter made 3 deliveries to them with huge sleds of materials while we were climbing up.  I was hoping it would carry me to the lake!  Past low genet bushes, miniature rhododendrons, buttercups, daisies, and violets we continued to hike and climb.  Up, up, up, up, up…something like 1800 ft…all the while listening to the sound of water running off from the lake down a stream a short distance to our left.  At a high point I looked up from my footing to take in the beauty of the mountains surrounding us – breathtaking!  Returning my concentration to my footing for the final stretch of boulders and rocks we reached a dirth path which led to a darling wooden bridge over the mountain stream and HOORAY to the lake.  I caught my breath at the unspoiled beauty of this natural lake nestled among mountain peaks.  A large flat rock on the shore served as our lunch and rest spot; big enough to lay down on absorb the suns' rays and begin to feel snoozy.
Feeling recharged I said 'how about walking all the way around the lake'?, and Joe agreed that would be good extra credit.  Skies were clear, we were rested, and we had nothing on our schedule all day.
We passed several men camping and fishing (happy with their natural surrounding and lack of obligations) and met up a group who had just come down from the high mountains on the far side of the lake.  It was at this 'halfway round the lake' point when we heard the first rumble of thunder coming over the ridge…now, I'll let you in on something.  4 years ago on DAY 2 of my FIRST backpacking trip ever, Joe & I had just hiked from Cucugnan to the top of Chateau Peyrepertuse (I was dog tired and badly in need of lunch) when a sudden storm unleashed its fury on us!!  No time to descend, we clung to an ancient wooden door under the narrowest of overhangs ever while Armagedeon unfolded around and on top of us.  Pouring rain, thunder, lightning, hail, whipping winds, a torrent of water rushing up to our ankles as it emptied out of the castle…I thought we were goiing to DIE!  What I learned from that storm are 2 things: a) when you hear thunder…you move off of the mountain as fast as possible, and b) when Joe says 'keep moving' I keep moving.
Back to the mountain lake and distant rumble of thunder.  Our eyes locked and I knew the drill.  Move – and move quickly!  Remembering that we were halfway round the lake, and that we had an entire boulder field to descend, I knew this wouldn't be easy and I'd need to really 'butch it up'.  Quick as a wink we got around the lake, over the bridge, up the dirt path which was now turning to mud with the rain.  Sprinkles turned to drops, drops grew into really big drops, and then as we briefly paused in a semi-dry spot to get me into a rain shirt, I strapped my pack back on, looked down, and seeing white pellets collect at my feet I heard myself say 'I think I'm seeing hail' – to which Joe camly responded with the quote of the day "You are…keep moving".
Epilogue:
Fear is an amazing thing.  It can cause a mother to lift up a car far enough to free a child.  And, in my case, it can transform stumbly, unsure girly feet into swift, nimble, and agile feet.  I've never descended a rocky path so quickly, chosen each footfall with more confidence, and felt more 'out of body' than yesterday.  I'm not saying I was a gazelle…but we were down to the car in record time.  Take THAT guidebook!