Music Teachers and Mountain Guides
Each year, as our season of music comes to a close, I have the great privilege and honor to work with students as a part of our annual high school choral festival. Five years ago "Tomorrow's Voices Today" was just a festival, but now this title has grown to encompass all of Key Chorale's educational outreach projects: after school programs for Visible Men Academy, lectures, classes, our Sarasota Choral Festival, and Student Scholar program are just a few of the ways we impact our community through education.
I often feel a little like a mountain climbing guide as I lead students on paths and routes, which I have traveled many times, but are new to them. In that way, mountain guides are like teachers only using a different medium. Music is the teacher's mountain, batons, voices and musical scores their ropes and carabiners. Like teachers, guides have chosen deliberately to devote themselves not as much to the pursuit of their own personal climbing goals and dreams, but rather to the development of new climbers and in assisting them in pursuing their dreams, their craft, their passion.
Gaston Rébuffat was one of the greatest alpinists of all-time. He was the first to climb all six of the great north faces of the Alps and put up more than 40 classic routes. In fact, a photo of him standing atop Aiguille du Roc, a striking needle rock in the Alps, near Chamonix, France, is one of 116 pictures included as part of the Golden Record on the Voyager Spacecraft. Although he was a world-class mountaineer, he was also a dedicated climbing guide, sharing his love of the mountains with countless clients.
"With the inevitable repetition of the same ascents, the work of the guide could become tedious, but the guide is not just a machine to climb slopes of ice and walls of rock, to know the weather and the route. He does not climb for himself: he opens the gates of his mountains for his companion. He knows that such-and-such a climb is interesting, that this particular arête is as delicate as a piece of lacework, he knows at which turn there is, suddenly, a wonderful view. He says nothing but his reward comes with the smile of his companion when he sees it. If the guide could take pleasure only in his own climbing, he would quickly lose his appetite for the mountains. The guide gladly climbs the same crack or the same slab five or ten times in the summer, but his happiness comes from a deeper feeling, his feeling of kinship with the mountain and the elements, his feeling of responsibility towards a man who has complete confidence in him."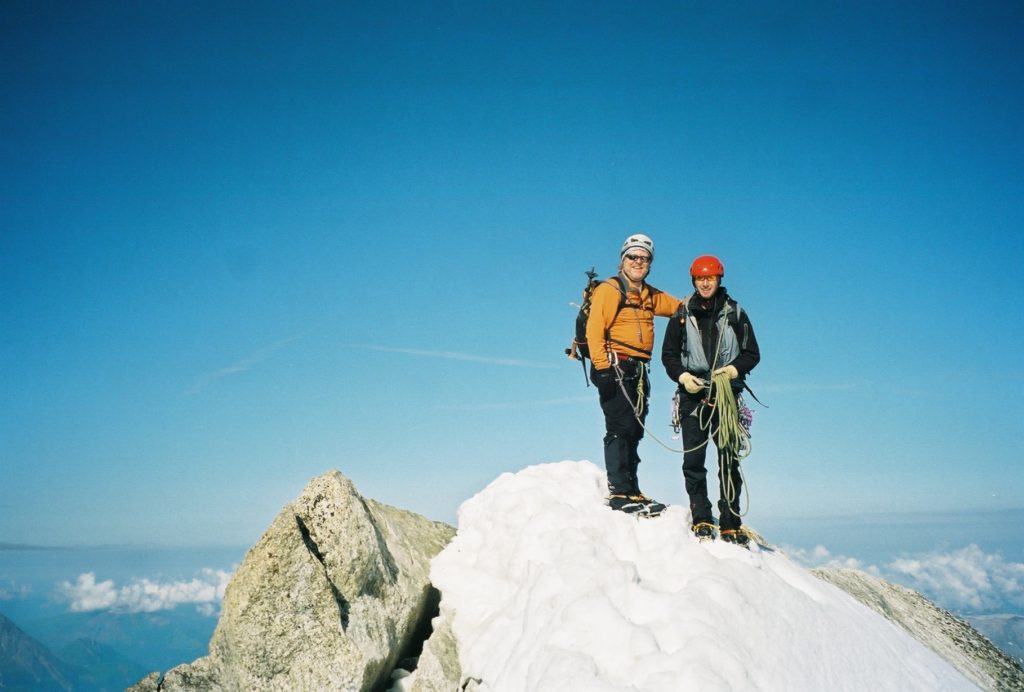 Somehow experiencing a student's joy of self-discovery, a perfectly balanced chord, a musical phrase that gives a glimpse of true artistry, seeing the look on their faces when everything just clicks in a moment of transcendent beauty – these are moments where one realizes that sharing your love of music with others is the most important thing a conductor can do. I am a result of the talented, dedicated teachers and guides I have had in my life. Ultimately so will our "Tomorrow's Voices" be the result of the care, dedication, and experiences we as teachers, parents, lovers of the choral art – and even this conductor – invest in these students. Let's hope these experiences are their first of many mountaintops they will ascend, and maybe someday, they will be the guides for the next generation.